Student engineers selected by NASA to help shape future spacewalks
04/15/2019

For the second consecutive year, NASA has invited a team of students from The University of Akron's College of Engineering and Buchtel College of Arts and Sciences to travel to the NASA Johnson Space Center (JSC) in Houston, Texas, where the team will test its design of a helmet-based, augmented reality (AR) display system to enhance task communication for astronauts on spacewalks.

UA's team, "Virtual Environments for Space Travel" (VEST) – one of only 12 teams nationwide invited to the JSC this week — April 15-19 – is eager to test modifications made to last year's display system.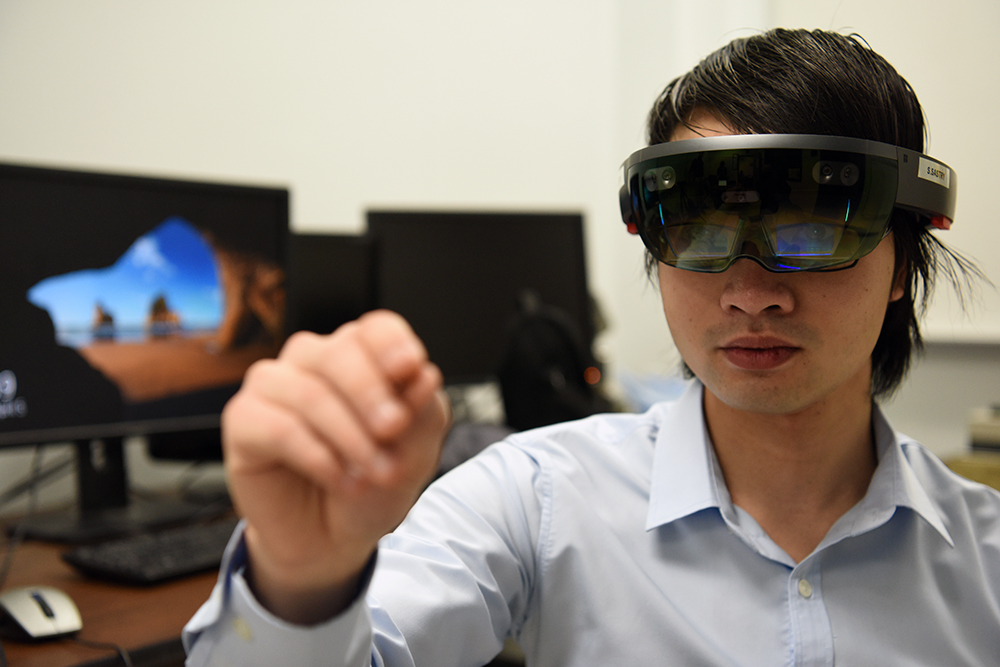 Bach Tran interacts with virtual images on the Microsoft HoloLens.
"We have learned a few lessons from last year and made some significant changes to the system," said the team's advisor, Dr. Shiva Sastry, director of strategic initiatives and professor of electrical and computer engineering at UA. "We are honored and thrilled to have this awesome learning opportunity for our students and to represent the University again."
The NASA Spacesuit User Interface Technologies for Students (S.U.I.T.S.) Challenge requires collegiate teams to create a helmet-based AR display system that could help astronauts better complete extravehicular activities (EVA), such as repairing spacecraft. If successful in testing, VEST's prototype has the potential to aid in a future NASA spacewalk or exploration mission.
The teams are designing and testing their display systems on a Microsoft HoloLens, a headset with "mixed reality" smart glasses, in which computer-generated images are superimposed onto – and thereby "augment" – the user's experience of reality.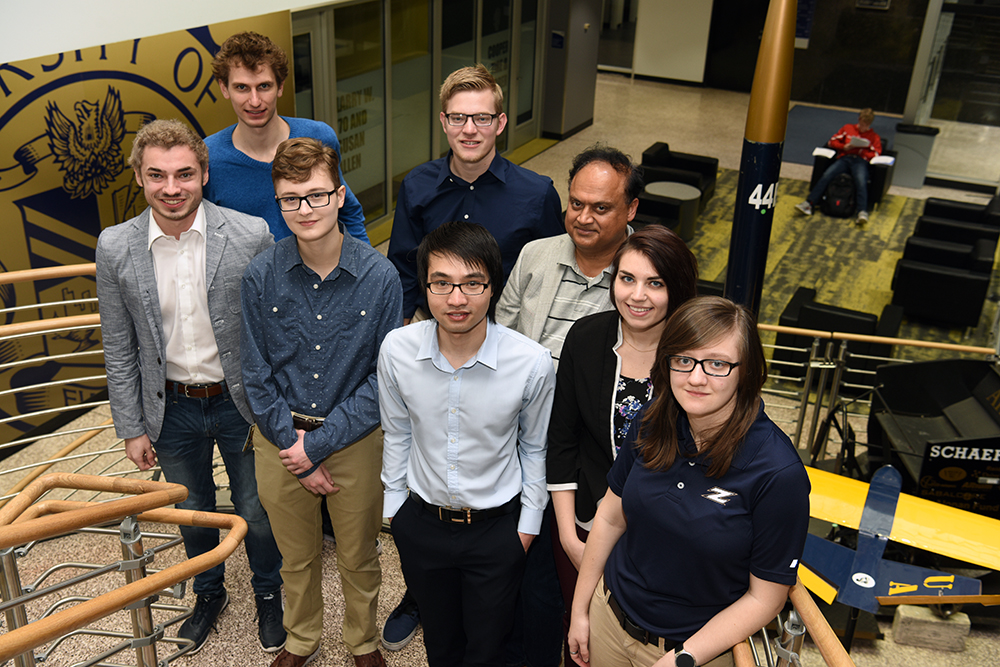 Members of the Virtual Environments for Space Travel team are, in the back row, from left, Thibaut Houette, Caleb Dyck and Dr. Shiva Sastry, and in the front row, from left, Joshua Foss, Erin Michaud, Bach Tran, Sarah Medved and Alycia Riese.
Currently, astronauts must rely on remote voice communication from mission control and crew members to receive instructions and procedures during spacewalks. With AR-capable helmets, however, they would have immediate access to instructions, procedures, graphics, suit status and other information in the form of an audiovisual display, enabling them to work more efficiently.
In Houston, our team will demonstrate a revised design for the display system that includes a richer vocabulary for navigating the guidance system and new technology to help guide the astronaut to a work location. The test subject will wear thick gloves and a head display to complete tasks that are similar to those performed by astronauts during spacewalks. The test will take place in NASA's Human Integrated Vehicles and Environments (HIVE), a facility used to develop and build human interfaces for human-in-the-loop testing.
Led by Bach X. Tran, a second-year doctoral student in electrical and computer engineering and the sole returning member of last year's team, and Sarah Medved, a fourth-year electrical engineering major, the seven-member team spent the past semester and a half refining their display system, meeting on Fridays as part of UA's "Five-Star Friday" schedule. See a Q&A with the students.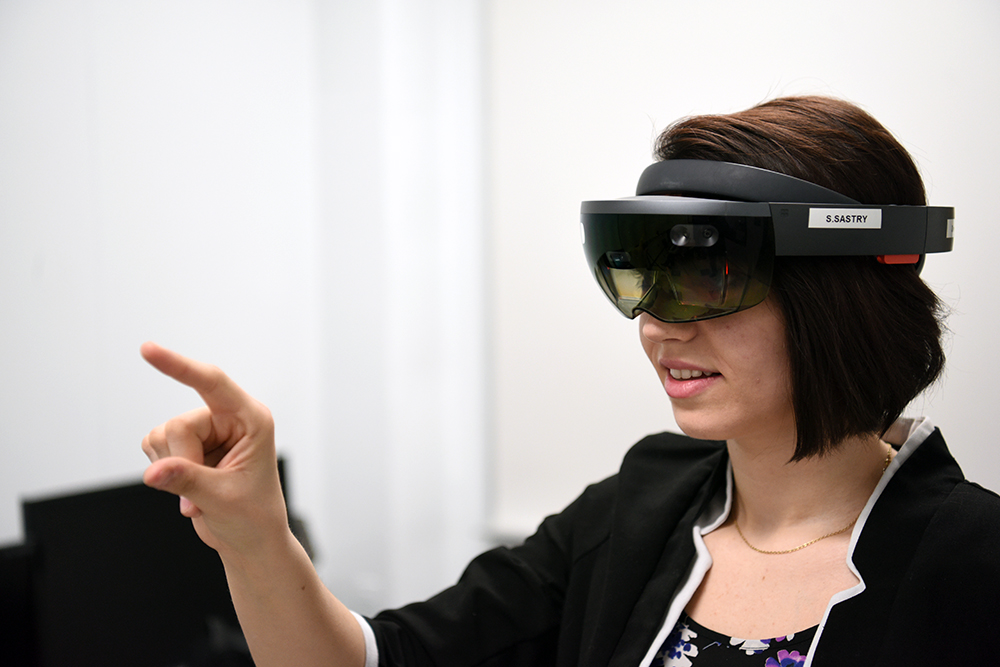 Sarah Medved demonstrates the "augmented reality" display system.
Tran said modifications to this year's technology include:
An improved safety display system, which lets the astronaut know whether it is safe to conduct a particular mission;
An updated display of telemetry data, which alerts the astronaut to low oxygen levels or sudden increases of temperature in the space suit;
An improved navigation system that, displaying an arrow, better guides the astronaut through the worksite; and
A new framework for storing instruction data for an EVA on an external database, located in the spaceship or ground stations, rather than on the HoloLens, which has limited memory space.
Tran presented some of these innovations at the 13th annual Institute of Electrical and Electronics Engineers International Systems Conference in Orlando, Fla., in early April.
"Working on this project gives me a huge advantage of diving into new technology," said Tran, who expects to graduate in 2021. "We realized a great deal of opportunities of AR in the near future and identified the challenges and solutions."
"This is an incredible opportunity that not many students can say they have had offered to them," added Medved, who will graduate spring 2020. "My team members have made this whole experience very rewarding, and Dr. Sastry has been an awesome advisor, always pushing us to try bigger and better things."
---
Media contact: Alex Knisely, 330-972-6477 or aknisely@uakron.edu.