As part of The University of Akron's sesquicentennial celebration — honoring 150 years of our people, place and promises — we are hosting a "Celebration of Academic Excellence" to highlight the history and future of our colleges, schools and academic disciplines.
Today we continue to honor the achievements of the School of Law.
---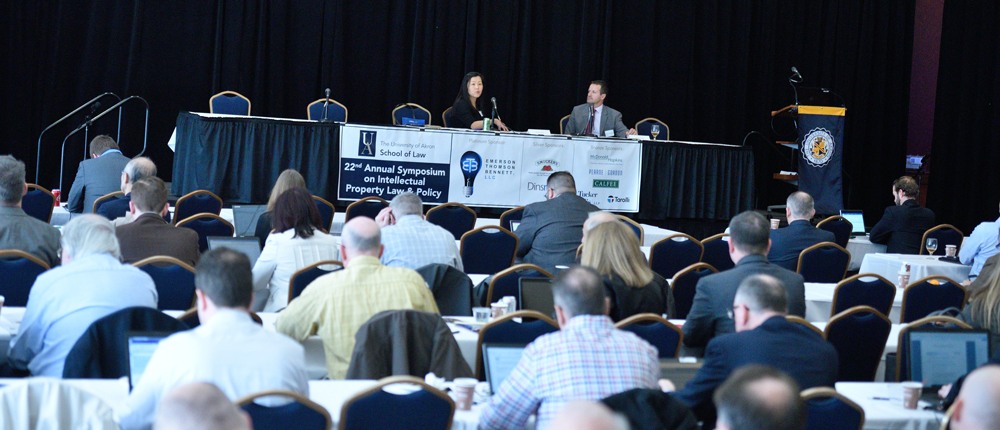 Panelists address a full house at last year's Symposium on Intellectual Property Law & Policy.
While few would likely choose a virtual over a live event for The University of Akron's 23rd Annual Symposium on Intellectual Property Law & Policy, the online format does bring certain advantages, according to Professor Mark Schultz, the Goodyear Tire & Rubber Company Chair in Intellectual Property Law and Director of the Intellectual Property and Technology Law Program.
"With the expansion from a single-day program to two half-days, the online format allows us to include one additional session. We are also able to bring in prominent out-of-town speakers who may not have been able to make the trip for a live event.
"Attendees not only save travel time and cost but can earn more CLE (Continuing Legal Education) hours than ever before," he said.
The IP outlook
"The opening-day discussion on the direction of IP law and policy over the next four years should be of keen interest to all attendees, no matter their specialization," Schultz said.
"We have really well-informed panelists: the current chair of the American Bar Association's intellectual property law section; the senior director of federal government relations at BIO, the world's largest biotech industry organization; the head of the global innovation policy center at the U.S. Chamber of Commerce; and the head of IP at Viacom CBS," Schulz noted.
"These panelists have great insight into what the Biden administration and Congress is likely to do with regard to leadership at the Patent and Trademark Office, how intellectual property will figure in our trade policy, and what our relationship with China might be regarding intellectual property. New leadership in Congress also has new priorities regarding patent legislation, copyright enforcement, and anti-counterfeiting legislation. I think this will be a great opportunity for our audience to hear where IP law policy is headed during this time of transition," Schultz said.
"Another special opportunity will be the Friday panel discussion on the Patent Trial and Appeals Board (PTAB) at the U.S. Patent and Trademark Office," Schultz continued. "The panel includes two active and one retired PTAB judges. They will provide commentary to lawyers on how to be effective advocates before the PTAB.
Major changes in copyright law
"The copyright law panel will address two major changes that were included in the December 2020 Covid-19 relief bill," Schultz said. "One establishes criminal penalties for piracy services that illegally stream large amounts of copyrighted content. Another creates a small claims court that is intended to make it easier for smaller independent artists like photographers to bring infringement cases without having to file costly federal lawsuits.
"Our panel will include senior executives from the Motion Picture Association, the Recording Industry Association, and the Copyright Alliance, all of whom were deeply involved in drafting this legislation. They will have insider insights on how these laws will be implemented."
Another timely panel will address diversity, equity and inclusion in the IP profession.
"It's an important discussion for us to have," Schultz said. "There is a recognized gender and diversity gap in the IP field. We have a great panel to discuss the issues that includes corporate counsel from Procter & Gamble, Nationwide Insurance and Eaton Corporation."
The 2021 Symposium takes place via WebEx on Thursday and Friday, March 25 and 26, from noon to 5:00 p.m. both days. Participants may register until noon on March 24.
The cost is $300 for legal professionals; $150 for faculty and government employees; and $10 for Akron Law students.
For more information and to register for the virtual symposium, click here.
---
NEXT: