Galen S Karriker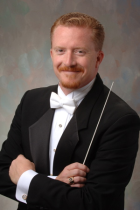 Title: Professor; Director of Bands
Dept/Program: Music
Phone: 330/972-6180
Email: gsk1@uakron.edu

---
Biography
Galen S. Karriker is currently Director of Bands and Associate Professor of Music at The University of Akron. He conducts the Symphonic Band and coordinates the entire university band programs, including Directing "Ohio's Pride," The University of Akron Marching Band, and coordinating the Blue and Gold Brass basketball bands. Dr. Karriker also teaches courses in instrumental conducting and marching band techniques.
For the past fourteen years, Dr. Karriker has served as the Assistant Director of Bands and Director of Athletic Bands at The University of Akron. Under his direction, the University of Akron Concert Band has performed as a "clinic ensemble" for the Ohio Music Education Association State Convention and has been a featured performing ensemble at the Ohio Band Directors Conference. The marching band performs each year for thousands of Akron Zips fans, and the band receives accolades each year for their performances at marching band festivals and National Football League games throughout the state and region.
In addition to his teaching schedule, Dr. Karriker is active as a guest clinician presenting clinic sessions at the 2002 and 2003 Ohio Music Education Association Professional Conference. A frequent guest conductor, he has been invited to conduct numerous honor bands, public school bands, several summer music camps including the Great Lakes Music Camp at Butler University and Valparaiso University, and the Summer Music Clinic at the University of Wisconsin-Madison. He has also been an orchestra clinician for numerous public school orchestras in Ohio and Michigan, and was the guest conductor for the Akron Public School Honor Orchestra in the spring of 2004. For the past ten years Dr. Karriker has also served as a drum major and conducting clinician for the Phantom Regiment Educational Programs at Rockford College in Rockford Illinois, Frostburg State University in Frostburg Maryland, University of Louisiana-Lafayette and The University of Akron.
Dr. Karriker holds professional memberships in the National Band Association, College Band Directors National Association, Mid-American Conference Band Directors Association (President 2003-2005 / Treasurer 2013), Music Educators National Conference, Ohio Music Education Association, Percussive Arts Society, and Phi Mu Alpha Sinfonia. He has also received honorary membership from Kappa Kappa Psi (92'), and Tau Beta Sigma (00'). Dr. Karriker earned a bachelor of music education degree from Louisiana State University in 1992, and a master of music degree and doctor of musical arts in conducting from Michigan State University in 1994 and 2012 respectively. At Michigan State University, Dr. Karriker was a student of Kenneth G. Bloomquist, John Whitwell, John T. Madden, and Kevin L. Sedatole.
Prior to joining the faculty at The University of Akron in 1999, Dr. Karriker was on the faculty at the University of Wisconsin-Madison where he served as the Assistant to the Director of Bands. As a performer, Dr. Karriker maintains an active schedule of percussion performances and clinic sessions. He is also active as a folk musician, performing on the five-string banjo and serving as arranger and performer for several folk concerts and faculty recitals presented by faculty at The University of Akron. He also arranges and composes the majority of music and drill performed by The University of Akron Marching Band as well as numerous arrangements for the Blue and Gold Brass basketball bands.
---