Larry D Snider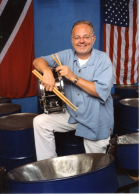 Title: Distinguished Professor
Dept/Program: Music - Percussion
Phone: 330/972-6988
Email: lsnider@uakron.edu

---
Biography
Dr. Larry Snider is Professor of Music and Director of Percussion Studies at The University of Akron in Akron, Ohio. He holds bachelor's and master's degrees from Illinois State University and The University of North Texas, respectively, as well as a Doctor of Musical Arts Degree in percussion performance from the University of Illinois.
Dr. Snider has built a strong Percussion Program whose graduates consistently achieve professional success as performers and educators throughout the world. The program's most visible and widely acclaimed component is The University of Akron Steel Drum Band, which enables students to gain valuable experience in teaching and playing ethnic music and Latin accessory instruments. Founded in 1980 by Dr. Snider as one of the nation's first and foremost collegiate panorama-style ensembles, the Steel Drum Band performs locally and throughout the United States. Proceeds from sales of the band's three CDs benefit a scholarship fund for students studying percussion at The University of Akron. Also widely acclaimed is the program's percussion ensemble devoted to new and experimental music.
Dr. Snider also leads the PATHS program in which students from The University of Akron (UA) teach "at-risk" youngsters how to play steel drums. This innovative program reaches traditionally under-served youngsters, helps UA students gain valuable teaching skills, showcases the community's musical diversity, and enriches the connection between campus and community.
Dr. Snider received the first-ever Outstanding Arts Educator Award presented by the Akron Area Arts Alliance in fall 2001. Dr. Snider has served on the percussion faculty at the Interlochen Arts Academy in Michigan and the International Percussion Workshop in Zagan, Poland, and as an adjudicator at the International Marimba Competition in Warsaw, Poland. He is often invited to be the chief international adjudicator for World Steelband Festival competitions in Trinidad and the United States, which draw steel bands from around the world.
An accomplished performer, Dr. Snider is Principal Percussionist with the Akron Symphony Orchestra and has served as an adjunct percussionist with the Cleveland Orchestra.
---