Robert J. Brownlow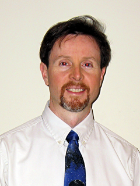 Title: Professor of Instruction
Dept/Program: Music - Theory & Composition
Office: Guzzetta Hall 364
Phone: 330-972-6639
Email: rb49@uakron.edu

---
Biography
Robert J. Brownlow has enjoyed a varied career as a composer, performer and educator. He has composed works for nearly every genre and attempts to appeal to a broad audience. His compositional style has been described as eclectic. It is energetic, colorful, rhythmic, contrapuntal and shows influences that range from Bach, Bartok, jazz, minimalism, as well as to film score composers John Williams and John Barry.
His compositions have been performed throughout the United States as well as in Germany, Thailand, Brazil, Puerto Rico, Spain and the Philippines. Numerous works have been commissioned and premiered at both national and international instrument conventions.
As a performer, Dr. Brownlow has held full time positions in several orchestras including the Quad-Cities Symphony, Minnesota Sinfonia and the Bach Festival Orchestra.
He has held full time teaching positions at Luther College, the University of Wisconsin-River Falls and the University of Central Florida. He has been teaching composition and theory at The University of Akron School of Music since 2006. He has also held a summer position at the Interlochen Summer Arts Camp since 1999.
Most recently, Dr. Brownlow authored 26 New Etudes for Trumpet and Concert Duets for Trumpet.
---
Publications
Compositions: List of Original Works
- Recording of live performances are included when available.
- Digitally generated audio files of all pedagogical compositions are available.
---
Education
Doctor of Musical Arts, University of Iowa
Master of Fine Arts, University of Iowa
Bachelor of Arts, Luther College.
---