Laurie E Lashbrook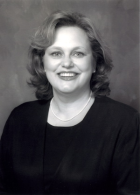 Title: Associate Professor
Dept/Program: Music - Voice
Phone: 330/972-2316
Email: lashbro@uakron.edu

---
Biography
Dr. Laurie Lashbrook is Assistant Professor of Music and Chair of the Voice Area at the University of Akron's School of Music in the College of Fine and Applied Arts. In addition to Applied Voice, she also teaches Song Literature, Advanced Song Literature, and Diction for Singers I and II. She also serves as faculty advisor to the Student Chapter of NATS.

Dr. Lashbrook received her Master of Music degree in Voice Performance from The Boston Conservatory of Music and her Doctor of Musical Arts in Voice Performance with a minor in Music History from The University of Nebraska-Lincoln. Her dissertation is entitled Obtaining Balance in the Vocal Studio: Healthy Steps to Interdependence Through Creating Adult-to-Adult Relationships Between Student and Teacher. She has done continued studies at The Eastman School of Music and The Oberlin Conservatory of Music. She has studied voice and coached with Elisabeth Phinney, Martina Arroyo, Robert L. Larsen, and John Wustman. Dr. Lashbrook has appeared in the opera roles of Donna Anna and Donna Elvira in Mozart's Don Giovanni, Countess Almaviva in Mozart's Le nozze di Figaro, and Tosca in Puccini's Tosca. She has also appeared in The Saint of Bleecker Street, Summer and Smoke, and Der Fliegende Hollander. In addition, Dr. Lashbrook has sung as a recitalist and with numerous orchestral and choral groups in Massachusetts, Iowa, Nebraska, South Dakota, Michigan and Ohio. She has performed in the Czech Republic while part of a cultural tour of that nation and as a result, has developed an interest and expertise in the music of Czech composers, particularly Dvorak, Smetana and Janacek. She has lectured at Czech Elderhostals on "The History of Art Music of the Czech Republic" and given voice recitals and lecture recitals on the music o f 19th and 20th century Czech composers.

Dr. Lashbrook has won a number of competitions and awards including The Thelma and J. Edmund Miller Artist Award, National Association of Teachers of Singing Artist Award (NATSA) regional auditions, and Metropolitan Opera auditions. She has been recognized for the rich quality of her soprano voice and the wide range of literature she is able to perform. She has sung with the Des Moines Metro Opera, the Omaha Symphony Chamber Orchestra, the Lincoln Orchestra Association, Abendmusik: Lincoln, The University of Akron Orchestra, Saint Paul Choral Society and VOCI. Dr. Lashbrook has also been sought out for her teaching expertise and educational experience. She is a member of The National Association of Teachers of Singing and has served on the Board of the Buckeye Chapter of The National Association of Teachers of Singing. She had adjudicated vocal competitions in Nebraska, Indiana, Ohio and Michigan, and has been a masterclass presenter in Nebraska, Michigan and Ohio. She also has coached, performed and lectured for the summer Bel Canto program at the historic Ramsdell Theater in Manistee, Michigan. One of her colleagues from the University of Akron wrote: "She is a master teacher in every sense. Her students are winning the major vocal prizes in the region, principal solo assignments in various organizations as well as performing our most impressive senior and graduate recitals.

Her students are devoted to her and she is our most attractive voice teacher in terms of recruitment." A former student, now studying for her Doctor of Musical Arts degree at Arizona State University writes: "There are few teachers who are as dedicated to both their subject matter and their students as Ms. Lashbrook. She thoroughly enjoys singing and her positive attitude constantly comes through in her teaching. Her dedication and her superb musicianship have help me immensely."
---