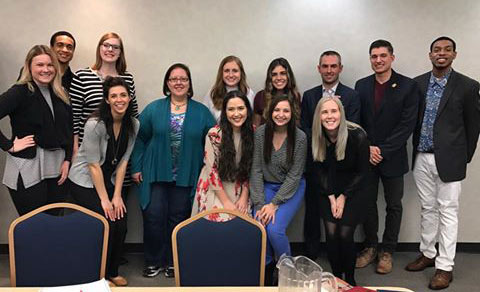 PRSSA
About PRSSA
Public Relations Student Society of America, or PRSSA, is a student organization that connects UA students with more than 11,000 college students interested in public relations and communication nationwide. We provide our students with networking opportunities, resources and information that will benefit them in the field after graduation. Students in our organization attend meetings bi-weekly where they interact with guest speakers, as well as other events hosted both by the PRSSA and the Akron and Cleveland Public Relations Society of America (PRSA) groups. The University of Akron PRSSA brings many guest speakers from the professional world to campus to share their experiences and offer information that can be helpful to students trying to navigate the job search after college.
Joining PRSSA
PRSSA holds two open meetings in the first few weeks of the fall and spring semesters that are free and open to all University of Akron students. After those two meetings are completed, a student must officially become a member to attend any future meetings. The PRSSA accepts member applications twice per year, first during our open meeting period in the fall semester, and again during our open meeting period in the spring. For due dates, and other questions, please contact the Faculty adviser or the President of the PRSSA at the e-mail addresses below. The fee for annual membership is $65, and the organization will accept that along with the students' application, anytime up until the second open meeting, which is the deadline for all fees and applications. Applications are located on the bulletin board on the first floor of Kolbe. Again, fees and applications must be dropped off by the last open meeting any given semester. They can be turned in at the meeting, or given directly to any of the officers on or prior to that date.
Top 5 reasons to join PRSSA
PRSSA is working to be an active member of the Akron community. We are looking to work with local nonprofits to give our members real world experience in the PR world, creating PR campaigns and working with social media.
We also attend numerous conferences throughout the year, such as PRSA Student Day and the YouToo Social Media Conference held in Kent. The conferences are an opportunity for members to learn from PR professionals and network with others.
PRSSA is always bringing professionals on campus to speak at meetings. In the past, speakers have sponsored us at conferences, the Akron Press Luncheon and offered members internships.
Apart from our meetings, PRSSA offers fun activities, such as bowling in the union and member dinners, so members have to chance to hangout with each other and build connections.
In mid October we will be holding the second Speed Dating Networking Night. This event brings in Akron and Cleveland professionals to speed date with our members. It's a one on one chance for members to talk to professionals.
Involved in the UA community
PRSSA is committed to being involved in the community. In the past we have been a part of Make A Difference Day, which is held annually at the end of October. Make A Difference Day is a great way to get involved and help out the Akron community.
Contact
For questions about PRSSA, contact President Bryce Chekan at bac126@zips.uakron.edu.