ZTV's 'Lights. Camera. Akron' honored with Emmy
06/26/2018
For a sixth time, ZTV, our student-run television station, has been awarded an Emmy. The latest presentation was made at the 49th annual Emmy Awards gala for the National Academy of Television Arts & Sciences, Lower Great Lakes chapter on Saturday in Indianapolis.
"The Emmy Award was given to our program, 'Lights. Camera. Akron' in the Student News and Information category," says Juan Eduardo Contreras, its executive producer. He is a professor of practice in the School of Communication. Four other ZTV shows received nominations in student categories as well — "300 Seconds of Science," News and Information category; "Akron After Hours" and "Lowdown," Arts and Entertainment category; and the promotional video "ZTV & WZIP: Make Media, Make a Difference," short form category.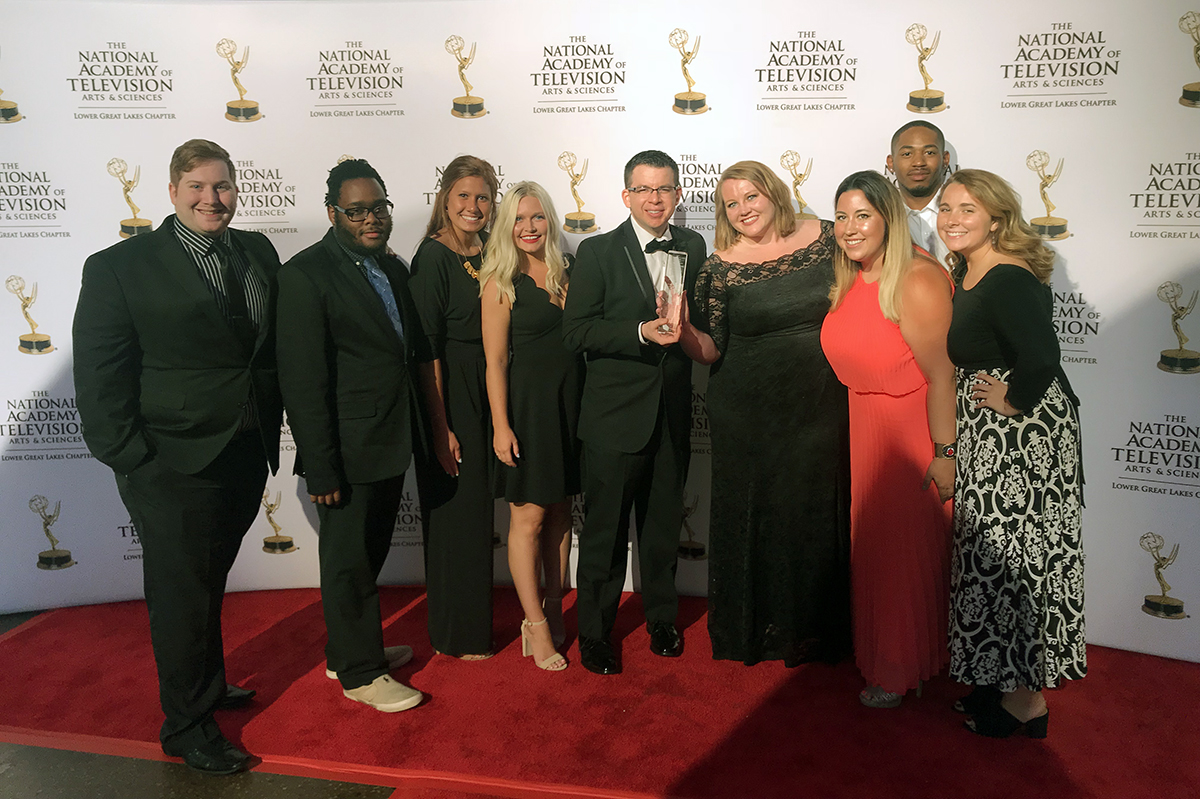 Juan Eduardo Contreras, center, holds the Emmy, with students, from left, Brendan O'Hara, host/reporter; Naquan James, reporter; Brissa Bradfield, host/reporter; Madelyne Watkins, host/reporter; Riley McMahon, producer; Brittany Francis, reporter; Ramon Wise, reporter; and Zoë Domonkos, reporter. (Not pictured is Brittany Rumple, a reporter with the program.)
ZTV, with a total of 31 Emmy nominations, enables students to learn valuable media skills in a professional environment, including writing for television, producing, video-shooting techniques, lighting, video-editing and more. The programming they produce covers a wide range of interests, including science, sports, music and arts, and sketch comedy. In addition, students work on the promotion of content using web and social media channels.
"It is great to see our students recognized year after year," notes Contreras, who attended the event with 26 students. "ZTV members are not just working hard to feed content to our station, they are well known for their professionalism, they are truly motivated to succeed, and they are in love with what they do.
"Our Emmy Awards are evidence of the professional standards that our students follow in their work ethic and their productions," adds Contreras. "When you can say that there's professional recognition for the work produced solely by University of Akron students, I cannot think of a better way to validate what our programs have to offer to our students."
Many journalists at Northeast Ohio television stations were recognized for their work as well, including David C. Barnett, senior reporter/producer, and Margaret Thompson, producer, of ideastream at WVIZ/PBS. Barnett and Thompson received the Emmy for Arts/Entertainment - News Single Story/Series/Feature for "Lost Holocaust Survivor Recordings Discovered at The University of Akron." Their story focused on the recordings made with Holocaust survivors by psychologist Dr. David Boder following World War II.