Undergraduate degree in sociology
Explore earning a BA in Sociology!
---
Why UA? Faculty/student mentorship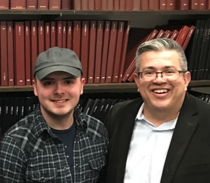 By John Livigni, current sociology students
Through my classes and my time here at the university, the importance of studying sociology and its application have become more apparent. You can see how our society is affected by the multiple variables at play.
Both in and outside of the classroom, Dr. Robert Peralta has been a major part of helping to develop my understanding of sociology. His teaching has challenged me and helped me to grow academically.
Through his encouragement, I joined the Sociology Club here on campus. Participation in the club, and Dr. Peralta's mentorship in the club, has been an incredibly beneficial component to continuing to learn about Sociology outside of the classroom. Additionally, Dr. Peralta was the advisor during my internship with Summit County Juvenile Court, and this experience helped to solidify my plans for a future career using the knowledge I have learned. Most recently, I was able to attend and present at the NCSA 2017 Conference with Dr. Peralta and members of the Sociology Club, and his guidance helped to prepare me for presenting at my first conference (something that is outside of my comfort zone).
The mentoring that I have received from Dr. Peralta during my time at the university has help to not only develop my understanding of sociology but also skills that will be beneficial no matter the career path I pursue.