 Welcome!
---
From the Panhellenic President
Fellow Panhellenic Women and Potential New Members,
Welcome to Panhellenic at the University of Akron! Our community is comprised of six NPC organizations, excelling in the areas of leadership, philanthropic involvement, campus involvement, and scholarship. Our community is home to over 400 women, many of whom are student leaders who are committed to serving the Panhellenic system by demonstrating the values and excellence we work to uphold on our campus. Our six Panhellenic sororities are: Alpha Delta Pi, Alpha Gamma Delta, Alpha Phi, Delta Gamma, Delta Zeta and Kappa Kappa Gamma.Sorority involvement continues to provide young women with the opportunity to be a part of the tradition of excellence UA Greek Life strives to sustain.
Although our organizations are different in name and symbol our common values unite us at a common foundation. Each chapter promotes values of scholarship, leadership development, civic responsibility, and building a bond of sisterhood that will last long past our college years.
Scholarship: Our Panhellenic community and the individual organizations place great emphasis on the academic success of each member. We are able to maintain an average GPA above a 3.15 which is higher than all undergraduate women's average GPA at the University of Akron. Our community supports academic success through the use of study tables, academic advising, and mentoring from other members. All of these components allowed the Council to achieve recognition by the Association of Fraternal and Leadership Values (AFLV) for Academic Programming for the past six years (2012, 2013, 2014, 2015, 2016, and 2017).
Leadership: Each chapter within our community provides leadership trainings and opportunities that are not always seen in other organizations on campus. The opportunity to hold a position within their respective organization can provide each member with real world experience that they can utilize during and after their college experience. The Panhellenic Council also supports leadership development through the Greek Leadership Program which is a leadership program specifically for members in their first year of Greek Life.
Civic Responsibility: Each chapter recognizes and works to support their own philanthropy and the local Akron community through hands-on service. All sororities host at least one large philanthropy event each year that members from all chapters' support. In Fall 2017, the Panhellenic Community was able to raise over $13,755 for philanthropic organizations and logged over 6,000 service hours. In the Fall 2015 the Panhellenic Community adopted Circle of Sisterhood as our community's philanthropy. Since bringing the Circle of Sisterhood Philanthropy to our campus we have raised over $3,000 for the foundation that supports girls' education in developing countries.
Sisterhood: Above all, when joining a sorority, you join a sisterhood full of women share common ideals and are a source of encouragement through college and beyond. Our community provides opportunities for sisterly bonding through Panhellenic sisterhoods, intramural sports, Songfest, Greek Week, philanthropy events, and many other social events.
Alongside the Panhellenic Executive Board, I am fortunate to work with an incredible group of people. This year we are especially looking forward to some upcoming projects on our campus. We are implementing our newly updated formal recruitment schedule for September. We have worked to bring new programs to our community and increased our focus on our Panhellenic philanthropy, Circle of Sisterhood. Finally, we are working to increase collaboration with other campus organizations.
I encourage you to look through our website to learn more about our recruitment process, our executive officers, our six individual chapters, and sorority life at the University of Akron. Please do not hesitate to reach out to me if you have any questions. We are all excited to tell you more about the organization we are all so passionate about!
Go Zips, Go Greek!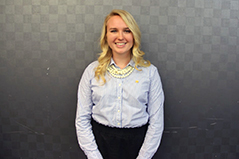 Layne McKinley
Panhellenic President 

The University of Akron
uaphcpresident@gmail.com