MSG Joshua Kelley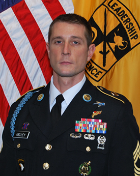 Title: Senior Military Instructor
Dept/Program: Army ROTC
Phone: 330-972-8820
Email: jkelley1@uakron.edu

---
Biography
Master Sergeant (MSG) Joshua Kelley was born and raised in Evansville Indiana. He graduated from high school in 2003 and enlisted in the US Army. He attended Basic Training at Fort Benning, Georgia in July of 2003. Upon graduation he was assigned to 3rd Battalion 502nd Infantry Regiment, 101st Airborne (Air Assault) Division, Fort Campbell Kentucky, were he served for 14 months, and included a rotation to West Point, New York where he helped teach the cadet summer training on Infantry tasks and tactics. Upon returning from West Pont, MSG Kelley was reassigned to the newly forming 4th Brigade Combat Team (4th BCT) that was later flagged as the historic 506th Infantry Brigade, 101st Airborne (Air Assault), where he served in 2nd Battalion. MSG Kelley held multiple positions in several companies to include: Rifleman, Squad Automatic Rifleman, Grenadier, Machine Gunner, Team Leader, Squad Leader, and Reconnaissance Squad leader. MSG Kelley deployed to Baghdad, Iraq from 2005 to 2006 where he earned his Combat Infantryman's Badge.
MSG Kelley was selected as a recruiter and attended the US Army Recruiters Course at Fort Jackson in the fall of 2007. Upon completion of recruiting school MSG Kelley was assigned to the Indianapolis Recruiting Battalion, with duty at the Highland Station. The Highland Station was re-zoned as part of the Chicago Recruiting Battalion where he served with honor for 36 months being inducted into the prestigious Order of the Sabre and the Recruiters Ring.
After completing his tour of duty as a recruiter in December of 2010 MSG Kelley was assigned as a Squad Leader to Battlehard Company, 3rd Battalion (Iron), 3rd Brigade (Rakkasan), 101st Airborne Division, Fort Campbell Kentucky. During his time with the Iron Rakkasans MSG Kelley held multiple duty positions across three companies including: Squad Leader, Weapons Squad Leader, Platoon Sergeant, Reconnaissance Platoon Sergeant, and was the Company First Sergeant for the historic Angel Company, 3-187 Infantry Brigade. MSG Kelley deployed three times with the Iron Rakkasans to Afghanistan where he took part in a diverse range of operations across the country.
MSG Kelley was reassigned in the fall of 2017 to the University of Akron as the Senior Military Instructor (SMI) in the Army ROTC department.
MSG Kelley has been married to Katy Kelley for 15 years and they have two children: Mikayla (age 14) and Hunter (age 8).
---
Research Accomplishments
MSG Kelley's awards and decorations include the Bronze Star Medal with Oak Leaf Cluster, Meritorious Service Medal, Army Commendation Medal five Oak Leaf Clusters (OLCs), Army Achievement Medal with one Silver OLC, Meritorious Unit Citation, Army Good Conduct Medal with four knots, Afghanistan Campaign Medal with Silver Star, Non- Commissioned Officer Professional Development Ribbon with numeral 3, Army Service Ribbon, Over Seas Ribbon with numeral 3, NATO Medal, Expert Infantryman's Badge, Pathfinder Badge, Airborne Badge, the Air Assault Badge, the Combat Infantryman's Badge, Recruiters Gold Badge with three Sapphire Stars, the Recruiters Ring and MSG Kelley is a recipient of the Order of Saint Maurice Award.
Education
MSG Kelley's military education includes: the Company Commanders and First Sergeants Course, Senior Leaders Course, Advanced Leaders Course, Basic Leaders Course, Pathfinder Course, Airborne School, Air Assault School, Combat Lifesavers Course, Tactical Combat Casualty Care Course (TC3), Special Purpose Insertion/Extraction Fast Rope Instructor (SPIE/FRIS) Course, Unit Prevention Leader Course and Foundation Instructor Facilitator Course/University Senior Leaders Course.
---