Samuel Kicker, Lieutenant Colonel, U. S. Army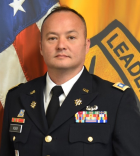 Title: Professor of Military Science
Dept/Program: Army ROTC
Phone: 330-972-7959
Email: skicker@uakron.edu

---
Biography
Lieutenant Colonel Samuel C. Kicker
Professor of Military Science –University of Akron (ROTC)- Akron, Ohio


Lieutenant Colonel Sam Kicker received his Army commission as a Military Intelligence (MI) Officer on May 29, 1999 from the United States Military Academy at West Point, NY. Upon completing his Officer Basic Course (OBC) at Fort Huachuca, Arizona, he was assigned as an Electronic Warfare Platoon Leader with the 502nd MI Company, 2nd Armored Cavalry Regiment (ACR) located at Fort Polk, LA. During his tenure, he fulfilled roles as 1st Squadron Assistant S2 (Intelligence Officer) and subsequently, Company Executive Officer. In October 2002, he transferred back to Fort Huachuca to complete his MI Captains Career Course (MICCC) where he specialized in Imagery Intelligence.
In May 2003, LTC Kicker served as the Battalion Adjutant and later the S4 (Logistics Officer) for the 105th MI Battalion, 66th MI Group in Darmstadt, Germany. He had a break in service from Active Component in July 2006, however he joined the Army Reserve in September 2009, assigned as an Intelligence Officer for the 412th Theater Engineer Command (TEC) in Vicksburg, Mississippi.
In September 2012, LTC Kicker deployed to Afghanistan in support of Operation Enduring Freedom (OEF) as the Construction Equipment and Mobility Officer for the International Security Assistance Force (ISAF) at Kabul International Airport base. Following his return in September of 2013, he was selected as the Commandant for Headquarters and Headquarters Company (HHC) with the 412th TEC.


LTC Kicker transitioned into Active Guard and Reserve (AGR) program in June of 2015, serving as the Operations Officer and afterwards the Executive Officer for Detachment 8, Central Command Army Reserve Element (CENTCOM ARE) in Millington, Tennessee. Following his first AGR tour, he served as the Battalion S3 (Operations and Training Officer) in June of 2018 with the 373rd Expeditionary MI Battalion, 259th Expeditionary MI Brigade in Joint Base Lewis-McChord (JBLM), Washington.
In July of 2020, LTC Kicker was selected as the Division Chief of Training (G-3/7) for the Military Intelligence Readiness Command (MIRC) at Fort Belvoir, Virginia before he accepted a nominative position July 2021 as the Professor of Military Science, located here at the University of Akron in Ohio.
LTC Kicker's military schools and education include: Air Assault, MI Officer Basic Course (OBC), MI Captains Career Course (MICCC), Combined Arms Service and Support School (CAS3), Imagery Intelligence Course, Public Affairs Course, Anti-Terrorism Officer Course, Army Combatives (Level 1), Joint Engineer Operations Course, Security Manager's Course, Intermediate Level Education (ILE), and Advanced Operations Course (AOC). His civilian education includes a Bachelor of Science degree in Economics with minor in Civil Engineering from West Point, and a Masters of Business Administration (MBA) with a concentration in Operations from the University of Phoenix.


His awards and decorations include the Meritorious Service Medal with four oak leaf clusters, Army Commendation Medal with three oak leaf clusters, Army Achievement Medal with four oak leaf clusters, Army Reserve Components Achievement Medal, National Defense Service Medal, Afghanistan Campaign Medal, Global War on Terrorism Service Medal, Armed Forces Reserve Medal W/ M Device, Army Service Ribbon, Overseas Service Ribbon, Army Reserve Component Overseas Training Ribbon, North Atlantic Treaty Organization Medal, and the Air Assault Badge.


LTC Kicker currently resides in Hinckley, Ohio with his wife Bonnie, son Brennan, and daughter Jocelyn. He enjoys chess, reading, playing billiards, and spending time in the great outdoors hiking.
---