Remembering longtime band director Robert Jorgensen
Professor of Music Emeritus and Director of Bands Emeritus Robert D. Jorgensen, who led the university's bands for 26 years, passed away July 4, 2015, doing what he loved. He was conducting the Freedom Brass Band during a Fourth of July celebration in downtown Akron when he fell ill.
"The entire University of Akron community is saddened to learn of the passing of Robert Jorgensen," said university President Scott L. Scarborough. "Bob was a dedicated and devoted band director, with a special ability to connect with students — encouraging them to be the best they could be, both in the band and as individuals. His care and concern for them during his 26 years at UA was legendary. We join in sending our deepest condolences to his wife, Anne, and their daughter, Laura."
Selected program notes and recordings of Robert Jorgensen
University Libraries has posted a collection of Mr. Jorgensen's program notes and recordings.
Jorgensen retired in 2013 from School of Music, where he held the titles of director of bands, professor of music and assistant director of the School of Music. When he retired, his colleagues voted unanimously to support awarding him the rank of professor emeritus and director of bands emeritus. Former Akron Mayor Plusquellic declared Oct. 5, 2013, to be Robert D. Jorgensen Day to honor his legacy.
Great mentor and motivator
Dr. Galen Karriker, UA's director of bands and associate professor of music, worked with Jorgensen for 15 years.
"Words cannot adequately express how much Bob's mentorship and guidance has, and will continue to mean for The University of Akron bands," Karriker said. "I know his legacy will be honored by all who have known him and by those students who will be influenced by his memory in the future.
"Bob's greatest impact will continue through the countless lives he touched both musically and personally," Karriker added. "The number of students and faculty he inspired and mentored are numerous beyond imagination."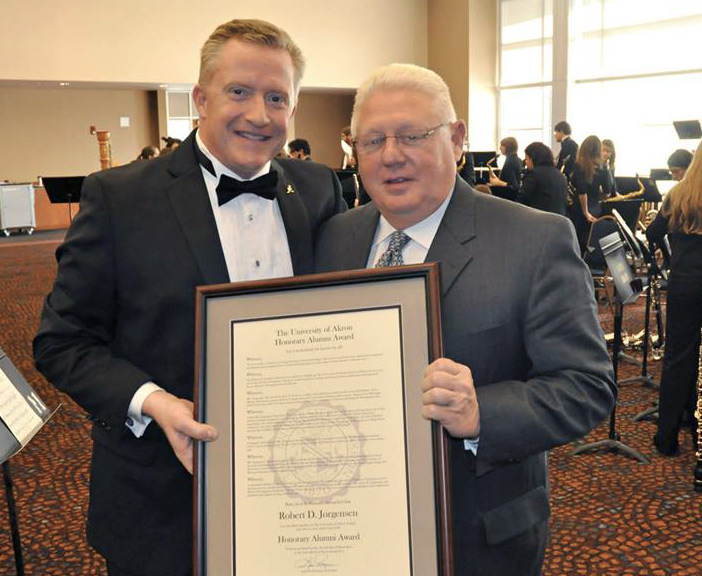 Dr. Galen Karriker with Robert Jorgensen in 2013 when Jorgensen was presented with an Honorary Alumni Award by the university's Alumni Association.
---
Quarter century of achievement
During his 26 years at Akron, the Symphonic Band was invited to perform at:
11 conferences of the Ohio Music Education Association,
the 1992 conference of the College Band Directors National Association (CBDNA) in East Lansing, Mich.,
the 1998 CBDNA conference in Kansas City, Mo., and
the 2003 American Bandmasters Association Convention at the University of Maryland in College Park, and the 2004 CBDNA conference at the Cincinnati Conservatory/College of Music.
The Symphonic Band also performed at Severance Hall in Cleveland in April 2003, followed by a 2008 tour of European countries.
Jorgensen was widely honored as a music educator and conductor:
He received the Outstanding Bandmasters Award from the International Assembly of Phi Beta Mu, International Bandmasters Fraternity, at the Midwest Clinic in Chicago, Illinois, in 1999.
He received the Citation of Excellence Award from the National Band Association in 1981 and the A. Frank Martin Award from Kappa Kappa Psi in 1992.
In 1991, Jorgensen was elected to membership in the prestigious American Bandmasters Association and is a Past-President of this organization, having been elected to this office at the 74th annual convention in Miami, Fla., in March 2008.
He is also past president of the Mid-American Conference Band Directors Association.
Jorgensen appeared as guest conductor, clinician and adjudicator throughout the United States. In 2009, he was invited to serve as an adjudicator for the St. Patrick's Day Parade in Dublin, Ireland.
Since 2006, Jorgensen had served as musical director/conductor of The Freedom Brass Band of Northeast Ohio.
Jorgensen earned a bachelor's degree from the University of Illinois and a master's from Michigan State University.
From 1969-1972, he was euphonium soloist with the United States Army Field Band in Washington, D.C.
Prior to joining the faculty at The University of Akron in 1987, Jorgensen was on the faculty at Morehead State University in Kentucky, and was director of bands at Midwestern State University in Texas. His concert band in Texas performed for the Texas Music Educators Association convention and the Texas Bandmasters Association convention.
Memorial gifts
Memorial gifts in Professor Jorgensen's name may be made to the Robert D. Jorgensen Endowed Fund, which supports full-time music majors enrolled in UA's concert bands.
To give:
Visit UA's giving site
Click on the green button that says Give Now.
Designate "Robert Jorgensen Scholarship" where indicated.
---
Robert D. Jorgensen