Co-op helps define career path for recent grad
02/22/2010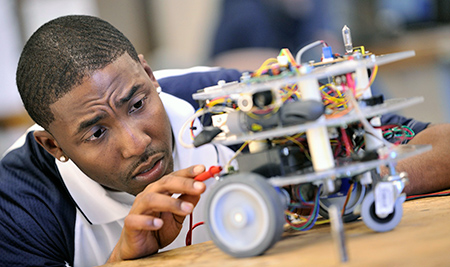 When Antonio Samuel, right, crossed the stage to receive his diploma at the 2010 Spring Commencement, he already had something most new college grads are still searching for — that first job in the real world.
Samuel's job offer came from The Timken Company, headquartered in Canton, Ohio. He got it through a combination of hard work in the classroom and the promise and skills he demonstrated during the semester he spent with the company through the College of Engineering's Cooperative Education Program.
The co-op program, one of the oldest in the nation, enables UA's student engineers to integrate classroom learning with on-the-job experience while they earn their degrees. Students can alternate semesters of paid employment in their major fields of interest with semesters on campus after they have completed five semesters of study.
Although optional, the co-op program boasts nearly 100 percent participation. And more than half of the students who participate receive a job offer from a co-op employer. Samuel, who majored in electrical engineering, used the program to its full advantage — serving two co-ops with ArcelorMittal in Cleveland, and a third with Timken.
"I got my foundation in class through the core courses, but the co-ops helped me discover my interests and possible career paths," says the young alumnus. "They gave me time to determine exactly what I want to do."
At ArcelorMittal, which has steel-making operations worldwide, Samuel assisted with trouble-shooting and programming fixes. During his second co-op with the company, he demonstrated he could also improve the bottom line. Samuel was asked to solve a longstanding problem with an automated system for mixing metals. Because the system didn't work correctly, the metals were being mixed manually — a costly and time-consuming alternative.
"I took some courses and learned another computer language to come up with a solution," says Samuel. "It was one of the highlights of my co-op experiences."
Management experience
For his third co-op assignment, Samuel, who had been a business major before making the move to engineering, wanted some management experience. So at Timken, he was assigned to the supply chain area.
"I still worked with a group of engineers, but our focus was on cost savings as we looked at all aspects of the business at Timken's various locations," explains Samuel. "My engineering background taught me how to look at things analytically, so I was able to convert that to the business side, which helped me a lot."
In his various assignments, Samuel gained much more than work experience, says the person he considers his mentor, Dr. Julie Zhao.
"Antonio was an outstanding student when he came to us," recalls Zhao the director of the IDEAS program (Increasing Diversity of Engineering Academics) in the College of Engineering. "He already had strong academic and leadership skills. What he gained through his co-op experiences is the maturity and confidence to use his skills in a professional setting, and to be viewed as a peer by other engineering professionals."
Next stop
Samuel is now an associate in Timken's two-year Manufacturing Leadership Development Program, almost a company equivalent of a co-op, giving him even more time to explore career paths. He is completing six-month assignments at different Timken sites around the country — in electrical engineering, supply chain, quality and manufacturing.
"I'm most drawn to manufacturing," says Samuel. "I started in a plant during my first co-op, that's where I got my initial exposure to electrical engineering, so I guess it's my comfort zone. But I'm open to the possibilities."
---
Story by Joette Dignan Weir, UA Institutional Marketing