UA Aero Design team engineers record-breaking 1st place finish in international competition
04/14/2014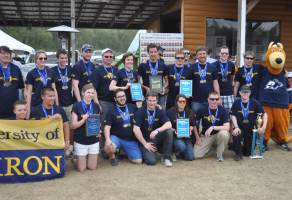 The University of Akron's Zips Aero design team earned the top prize at the 2014 SAE Aero Design East competition in Marietta, Georgia April 11-13, where they competed against 74 student teams from all over the world. The team finished 1st overall and set a new record for accuracy in the Advanced Class competition and 2nd overall in the Regular Class competition.
The object of the Advanced Class competition is to drop three-pound sandbags onto targets on the ground from 100 feet in the air. UA's Advanced Class plane, "B-50 Roo," features an on-board camera and sensors, which transmit data including airspeed and altitude to the ground station. In order to release the sandbag at the right moment, a co-pilot watches the camera and data and instructs the pilot when to drop the bag.
"We set a new record for closest drop on target," says aerospace systems engineering student and team co-captain Ian Maatz. "Not bad for our first time competing in this class."
In the Regular Class competition, the team was scored on their aircraft's reliability, weight and payload, as well as a technical report and presentation to Lockheed Martin employees. The goal is to design and build a plane that can carry as much payload as possible, and also to be able to predict well what that payload will be.
The team has much experience designing and building aircraft for the Regular Class competition. The objective this year was to take advantage of the solid model they've developed over the years and work to make it as light, strong and simple as possible, according to Maatz.
Zips Aero is led by faculty adviser Dr. Jerry Drumond, professor emeritus of mechanical engineering.
About the SAE Aero Design competition
The SAE Aero Design competition is intended to provide undergraduate and graduate engineering students with a real-life engineering challenge. The competition has been designed to provide exposure to the kinds of situations that engineers face in their real-life work environment. First and foremost a design competition, students will find themselves performing trade studies and making compromises to arrive at a design solution that will optimally meet the mission requirements while still conforming to the configuration limitations.
See also: UA engineering students won't settle for second best in aero design competition