UA students engineer car, receive first place in skid pad testing
08/09/2013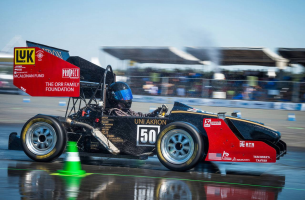 The University of Akron's Formula SAE race team had their best finish to date at the annual Formula Student Germany last weekend. The engineering students competed against 75 teams from universities around the world and landed in sixth place overall.
"The team began planning and designing the car for this competition a year in advance and put in many, many hours of testing to improve the car's performance," says Dr. Richard Gross, faculty advisor for UA's SAE student teams.
The Zips had impressive finishes in many of the competition's categories, landing first place in the Skid Pad Event, which tests the cars handling ability, third place in the Engineering Design Event, and fifth place in the Cost Event.
A complete overhaul of the engine and drivetrain, as well as a new aerodynamic system for the 2013 car makes the team's finish is even more impressive, says Gross.
The team is in Finland racing at Baltic Open Helsinki before their return to the U.S.