UA Corrosion engineering sophomore recognized among doctoral students
04/08/2014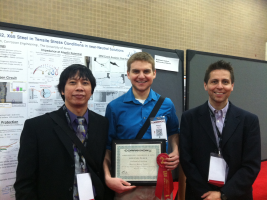 This Corrosion Engineering major is passionate about mitigating rust — and he has certainly made an impression on rust busters nation-wide.

Nathaniel Sutton, 19, of Warren, was one of nine standout students to snag a Student Poster Award from NACE International at their annual CORROSION conference. Nearly 120 students from universities all over the world entered the Student Poster Session hosted by the NACE Research Committee; thirteen entries were from students engaged in research at the University of Akron's National Center for Education and Research on Corrosion and Materials Performance.

The sophomore was honored with a second place award in the Harvey Herro "Applied Corrosion Technology" category. Sutton received a $1,000 scholarship and a plaque.

"It's amazing," said Sutton, who has a 4.0 grade average, "for me to be recognized along with doctoral students from some of the most prestigious research institutes around the world is such an honor."

Sutton started doing laboratory research as a freshman at UA in the Corrosion Engineering program, the nation's first and only baccalaureate degree of its kind. This project studied the electrochemical characterization of steel in tensile stress conditions, which can be used to make improvements to gas pipelines susceptible to corrosion cracking, a serious health, safety, and economic threat.

Faculty mentor Dr. Homero Castaneda Lopez has a mix of over 25 undergraduate and graduate students working in his corrosion research group. "I couldn't be prouder of Nate's achievements at NACE. Engaging college students in laboratory research to help apply classroom knowledge early on is critical to solving the $400 billion per year corrosion crisis in the U.S. I believe UA's Corrosion Engineering graduates will have a deep and positive impact on the corrosion industry."

In addition to Sutton, 32 other UA students attended the conference to participate in research presentations, the poster sessions, and accept scholarship awards. Eighteen undergraduate students in the Corrosion Engineering program at UA were awarded over $80,000 in scholarships from the NACE Foundation.