Civil engineering students optimize designs for annual competition
03/28/2014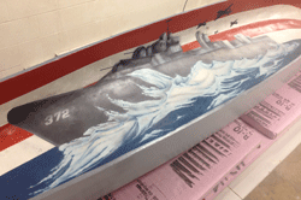 University of Akron civil engineering students will travel to Pittsburgh this weekend for the 2014 American Society of Civil Engineers (ASCE) Ohio Valley Student Conference and concrete canoe and steel bridge competitions. The Ohio Valley Concrete Canoe Competition takes place Friday, March 28, at North Park Lake, and the American Institute of Steel Construction Steel Bridge Competition on Saturday, March 29, at Carnegie Mellon University.
Students recycle materials from past canoe
When the concrete canoe from the 2010 competition began disintegrating while the team used it to practice for last year's competition, the industrious students had an idea. They recycled materials from the boat, which finished ninth in the nation, for this year's watercraft.
Recycling materials to build the new canoe also sparked an idea for the theme of this year's canoe, named Cassin after a World War II ship that was destroyed at Pearl Harbor on Dec. 7, 1941, but was later rebuilt with the salvaged materials. The USS Cassin went on to receive six battle stars for World War II service. The UA team has high hopes that their new and improved Cassin will lead them to victory, as well.
Changes to the design of the boat
Looking to optimize last year's canoe design, which landed the UA civil engineering students a second- place finish, the UA Concrete Canoe team identified areas of potential improvement.
"Last year at competition we found that while our canoe turned quickly, we lost a lot of speed in the long straight stretches," team co-captain Austin Feucht says.
This year the shape of the canoe is the same, but the boat is a foot longer and an inch narrower to allow the boat to turn just as well, but not lose speed in the straight runs, according to Feucht.
The Concrete Canoe Team is charged with designing a canoe made from concrete and demonstrating its merit based on canoe race results, a technical paper, an oral presentation, the canoe's aesthetic quality and its overall presentation.
Steel bridges competition coming to Akron
Students on UA's Steel Bridge Team design and fabricate a bridge that follows strict specifications and assemble it in a timed competition. The bridges are judged for deflection, assembly time, weight, and aesthetics.
The regional competition precedes the National Student Steel Bridge Competition, hosted May 23 to 24 by the UA College of Engineering. Teams from nearly 50 U.S., Canada and Mexico universities will come to Akron to compete in the competition.
"The College of Engineering is celebrating its 100th anniversary this year, and for the last two decades UA engineering students have been competing in the steel bridge contest," says Steel Bridge Team Captain Katie Kitner. "We're excited to welcome fellow engineering students to Akron during this milestone year."
As with the steel bridge competition, winning teams of the regional concrete canoe contest will advance to the 2014 National Concrete Canoe Competition, June 19 to 21 at the University of Pittsburgh.