Anil K. Patnaik, Ph.D.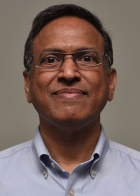 Title: Professor
Dept/Program: Civil Engineering
Office: ASEC 215
Phone: 330-972-5226
Email: patnaik@uakron.edu

---
Biography
Dr. Patnaik joined The University of Akron in 2007. Previously, he was a faculty member at South Dakota School of Mines and Technology. He also worked as a Site Director for the National Science Foundation (NSF) Center for Friction Stir Processing (CFSP), SDSM&T in South Dakota. Dr. Patnaik was the Lead Faculty Advisor of the winning team and the 1st Honorable Mention team for 2010 Titanium Pedestrian Bridge Design Contest, The Defense Metals Technology Center, North Canton, OH. He is the author or co-author of about 100 journal and conference papers, sole author of a book, co-editor of two conference proceedings, author or co-author of over 100 research, design and other reports. Dr. Patnaik secured research grants and contracts from several federal and state agencies, and private funding agencies such as Panel Suppliers, Forta Corp, Euclid Chemicals, ReforceTech AS, etc. His research funding as the PI and with his fellow researchers in the last ten years has been about $4.3 million dollars with over $3.1 million funding in last five years.
---
Research
Corrosion of reinforced concrete and steel structures, Life Cycle Analysis (LCA) of Civil Engineering materials and systems, Impact performance of rockfall concrete barriers, Structural engineering design, bridge design and construction, Synthetic and basalt fiber reinforced concrete ; and Fiber reinforced polymer (FRP) structural applications, Basalt fiber reinforced polymer reinforced concrete members and basalt Minibar applications, Structural health assessment, rehabilitation, repair and strengthening of existing structures, Large scale laboratory and field tests with instrumentation, Construction and long term performance monitoring including bridge deck cracking, Finite element modeling
---
Education
Ph.D. in Structures, The University of Calgary
M.Tech. in Structural Eng., Indian Institute of Technology, Kanpur
B.Sc. Eng (Honors) in Civil Engineering, National Institute of Technology, Rourkela
---
Courses
Reinforced Concrete Design, Steel Design, Structural Analysis, Senior Design (Capstone Design), Advanced Reinforced Concrete Design, Prestressed Concrete Design, Design of Tall Buildings, Advanced Steel Design
---