Dr. Tirumalai S. Srivatsan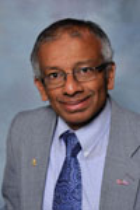 ---
Biography
Dr. T. S. Srivatsan ["Dr. SRI."] successfully finished his undergraduate degree: Bachelor of Engineering (BE 1980) in Mechanical Engineering from Bangalore University (Bangalore, India) in 1980, and subsequently graduate degrees [Master of Science in Aerospace Engineering (M.S. 1981) and Doctor of Philosophy in Mechanical Engineering (Ph.D. 1984)] from Georgia Institute of Technology (Atlanta, GA, USA), specializing in fields synergizing all aspects related to processing, characterization and mechanical behavior of engineering and engineered materials. Subsequent to graduating in 1984, Dr. Srivatsan worked in the position of Research Engineer at the Georgia Tech. Research Institute (Atlanta, Georgia) and Instructor (part-time) at Georgia Institute of Technology and later as Lead Project Engineer and Manager of Research and Development at Materials Modification Inc. (Falls Church, Virginia). Dr. Srivatsan joined the faculty in The Department of Mechanical Engineering at The University of Akron in August 1987. He currently holds the rank of Professor in the Department of Mechanical Engineering.
---
Research Accomplishments
His research areas currently span the fatigue and fracture behavior of advanced materials to include monolithic(s), intermetallic, Nano-materials and metal-matrix composites; novel processing techniques for advanced materials to include nanostructure materials; inter-relationship between processing, microstructure and mechanical behavior; electron microscopy; failure analysis; and mechanical design. His funding comes primarily from both industries and government and is of the order of a few millions of dollars since 1987. A synergism of his efforts has helped in enabling sustained advances in the science, engineering and technological applications of materials.
He has authored/edited two monographs in the areas of Rapid Solidification Technology and Advanced Structural Materials and edited/co-edited forty-seven books in areas cross-pollinating (i) mechanical design; (ii) processing and fabrication of advanced materials; (iii) deformation, fatigue and fracture of ordered intermetallic materials; (iv) machining of composites; (v) failure analysis; and (vi) modeling the performance of engineering structural materials. He serves as co-editor of International Journal on Materials and Manufacturing Processes and on the editorial advisory board of five journals in the domain of Materials Science and Engineering. He reviews technical manuscripts for over twenty archival journals in the domain of materials science and engineering and mechanics of solids and reviews technical proposals for agencies of the federal government and national research laboratories of few countries. His research has enabled him to deliver over one-hundred ninety technical presentations in National and International meetings and symposia; Technical/Professional societies; and Research and Educational institutions. He has authored and co-authored over six-hundred plus archival publications in International Journals, Chapters in books, Proceedings of national and international conferences, Reviews of books, and Technical Reports. In recognition of his efforts, contributions and its impact on furthering science, technology and education he has been elected Fellow of the society of American Society for Materials, International (ASM Int.); Fellow of American Society of Mechanical Engineers (ASME); and Fellow of American Association for the Advancement of Science (AAAS). He has also been recognized as Outstanding Young Alumnus of Georgia Institute of Technology, and Outstanding Research Faculty, The College of Engineering at The University of Akron, and the Louis Hill Award of the College of Engineering at University of Akron in recognition of his distinguished service. He offers his knowledge in research services to the U.S. Government (U.S. Air Force and U.S. Navy), National Research Laboratories, and industries related to aerospace, automotive, power-generation, leisure-related products, and applied medical sciences . He has the distinct honor of being chosen, in recent years, for inclusion in WHO's WHO in AMERICAN EDUCATION (7th edition); WHO's WHO in the MIDWEST; WHO's WHO in TECHNOLOGY; Elected to WHO's WHO in the WORLD (23rd edition);WHO's WHO in AMERICA ( 59th edition, 63rd edition); WHO's WHO in SCIENCE and ENGINEERING (8th edition); WHO's WHO among AMERICA's TEACHERS ( 7th edition); WHO's WHO among Executives and Professionals: Cambridge (2007-2012); Leader and Professional "Honors Edition" Princeton Premier Registry. Additional details pertaining to his research interests, publications, books and teaching can be had by visiting his web site at http://sites.google.com/site/tirumalaisrivatsan.
Education
Ph.D. (ME), Georgia Institute of Technology (USA) 1984; M.S. (AE), Georgia Institute of Technology (USA) 1981; B.S. (ME), University of Bangalore (India) 1980.
---