Pulse of the heartland: Ohio, and why its voices matter, explored by Professor David Giffels in latest book
09/02/2020
Who are we?
It's a question in the hearts of many Americans, struggling to make sense of a country torn by political division, economic instability and cultural conflict. 
David Giffels, a celebrated author and professor of English at The University of Akron, sought answers by exploring how his own state of Ohio — the proverbial "bellwether" and "battleground" state — has been grappling with that very question.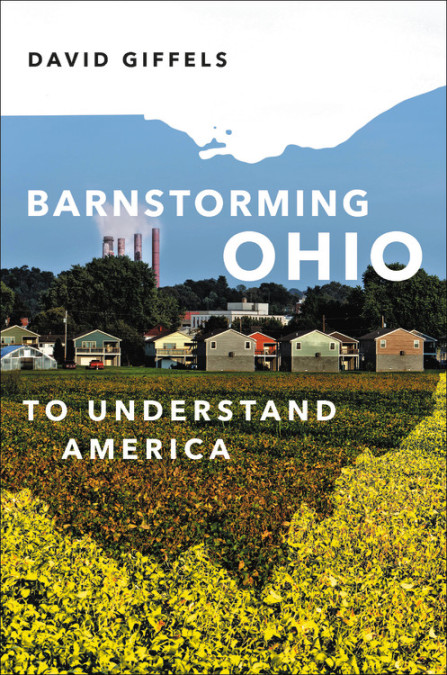 Author and UA Professor David Giffels latest book is "Barn­storming Ohio: To Under­stand America."
In his latest book, "Barnstorming Ohio: To Understand America," published Aug. 25, Giffels recounts his recent tour of a uniquely diverse state that, from its smokestacks to "stubble-plains," is in many ways a cross-section and microcosm of the country. He speaks with factory workers and farmhands, politicians and poets, startup brewers and booksellers, taking the pulse of Ohio to diagnose the nation.
In the opening pages of the book, Giffels writes that, in anticipation of the 2020 presidential election, his goal was to pursue "an important question of identity at one of the most critical junctures in modern American history," by letting Ohioans "speak for themselves" about their lives and communities — something that, despite media attention each election year, "happens less often than you might think."
Here, Giffels speaks for himself, sharing his experiences in writing the book, and what he has learned.
Author and UA professor David Giffels talks about his ties to Akron and what the "five Ohios" reveal about our nation.
After interviewing dozens of Ohioans, David Giffels reveals the two questions that frame the thinking of many voters.
David Giffles discusses what the rest of the nation might gain from listening to Ohio and what gives him hope for our collective future.
Share