Diane Brown, PHD, MSN, RN, CCRN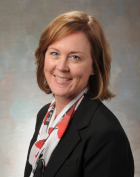 Title: Associate Professor
Dept/Program: School of Nursing
Office: Mary Gladwin Hall 201F
Phone: 330-972-7863
Email: dbrown1@uakron.edu

---
Biography
Education
PhD-The University of Akron - in progress
MSN - Gannon University – 1/1993
BSN - Ohio State University – 12/1986
A.D.N. - Youngstown State University – 3/1985
Specialty
Medical-Surgical
Recent Publications
Chronister, C., & Brown, D. (2012). Comparison of simulation debriefing methods. Clinical Simulation in Nursing. DOI: 10.1016/j.ecns.2010.12.005
Conrad, M., Guhde, J, Brown, D., Chronister, C., & Ross-Alaolmolki, K. (2011). Transformational Leadership: Instituting a Nursing Simulation Program,
Clinical Simulation in Nursing. DOI: 10.1016/j.ecns.2010.02.007.
Recent Presentations
May 5, 2013, The Ohio Consortium of Nursing Learning Labs meeting, Columbus OH. Title: "Measuring QSEN competencies (including Teamwork and Collaboration) during clinical simulations." By Mrs. Diane Brown, Mrs. Connie Chronister, and Dr. Sheau-Huey Chiu.
October 19-21, 2012, The National League for Nursing Seventh Annual Technology Conference: Technology's Transformative Power, Spokane, WA. Title: "eCommunity, mobile devices and simulation." Co-presented by Dr. Sheau-Huey Chiu and Diane Brown.
---