Mary E. Triece, Ph.D.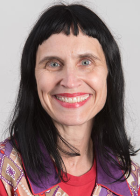 ---
Research
Mary E. Triece's research focuses on women's protest rhetoric of the twentieth century. In 2008, Triece's book, On the Picket Line, won the Bonnie Ritter Award. She is a three-time recipient of the University of Akron Summer Faculty Fellowship. In March 2010, Triece was the Roseanne L. Hoefel Women's Studies Scholar-in-Residence at Alma College in Alma, Michigan. Triece has twice been named a Favorite Faculty by the University of Akron's National Residence Hall
Publications
Triece is author of Protest and Popular Culture (Westview Press, 2001) and On the Picket Line (University of Illinois, 2007). Her work also appears in Communication Studies, Western Journal of Communication, Rhetoric Society Quarterly, Critical Studies in Mass Communication, and Women's Studies in Communication.
---
Education
Ph.D., Speech Communication, University of Texas at Austin, 1997
M.A., Speech Communication, University of Texas at Austin, 1992
B.B.A., Finance and Marketing, University of Texas at Austin, 1990
---