Gabriel Giralt, M.F.A.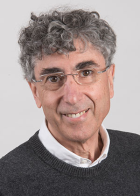 ---
Research Accomplishments
Gabriel Giralt teaches basic and advanced Single Camera Production and basic and advanced Audio and Video Editing and Film Criticism. His films and video works have been screened and exhibited at numerous national and international film festivals. His TV commercials have received awards at the Columbus International Film Festival, Houston International Film Festival, Telly awards and the Communicator awards. His area of interest is cinematography and his research interest is the European cinema. He has published scholarly articles in various film studies journals on these topics.
Publications
Most recent publication: "Realism and Realistic Representation in a Digital Age," Journal of Film and Video, Fall 2010, Vol. 62, No. 3
---
Education
M.F.A., Film Production, Ohio University. Athens, OH., 1988
B.S., Communication Arts, T.V. Production, Xavier University, Cincinnati, OH., 1982
---