Rhiannon Kallis, Ph.D.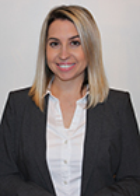 ---
Biography
Dr. Kallis joined UA's School of Communication in the Fall of 2019. Much of her research explores the topics of social media and interpersonal relationships.
---
Research
Dr. Kallis's research mainly takes a qualitative approach to understanding social media's impact on romantic relationships. Her research has explored the motivations for using dating apps, romantic escalation and de-escalation on location-based dating apps, social media and romantic jealousy, and self-esteem issues from using dating apps.
Publications
Juarez-Paz, A.O., Doherty, E., Storch, S., Kallis, R. B., & Kleinman, S. (2023) "Anyone else? Is this normal?": Anonymously seeking social support and information on the Ovia Pregnancy App. Atlantic Journal of Communication, 31(3).
Kallis, R. B. (2021). Creating a future relationship or destroying my self-esteem? An exploratory study on dating app experiences and well-being. Journal of Communication Technology, 4(1), 78-100. https://doi.org/10.51548/joctec-2021-005
Kallis, R.B. & Meluch, A. (2020). Workplace cyberbullying and online harassment as an organizational threat: Exploring the negative organizational outcomes. In L. R. Salazar (Ed.) Handbook of workplace cyberbullying and online harassment (pp. 176-196). IGI Global.
Kallis, R. B. (2020). Understanding the motivations for using Tinder. Qualitative Research Reports in Communication, 21(1), 66-73. DOI: 10.1080/17459435.2020.1744697
Kallis, R. & Ortiz Juarez-Paz, A. V. (2017). Music to mend heartache: Song choices to match, change, and distract mood. The Qualitative Report, 22(12), 3244-3259.
Ortiz Juarez-Paz, A., Kallis, R. B. & Xu, Yiwei. (2016). Evolution of the Disney princesses: From damsels in distress to damsels of distress. Journal of Communications Media, 8, 54-71.
---
Education
Ph.D. 2017 Indiana University of Pennsylvania
M.A. 2011 University of Delaware
B.A. 2008 California University of Pennsylvania
---
Courses
Undergraduate: Principles of Social Media, Advanced Strategic Social Media, Social Media and Relationships (Special Topics), Introduction to Public Relations, PR Writing, Small Group Communication, Introduction to Public Speaking
Graduate: Strategic Social Media, Applied Communication Theory
---
Areas of Responsibility
Public Relations; Social Media
---