Dialogue of dance: Communication major learns new kind of language in Haiti
06/29/2018
The one-armed orphan sulked in the corner.
The boy, about 8 years old, assiduously avoided eye contact with any of The University of Akron students who were visiting the orphanage in Ouanaminthe, Haiti, on a service and learning trip.
One of those students, Olivia Biss, was determined to speak with this one child who had isolated himself from his rambunctious peers. She sidled over to him and asked him his name.
No reply.
"What I realized when I was down there was there was a language barrier," says Biss, a senior communication major who grew up in Nordonia.
Then, after a few more failed attempts to exchange pleasantries, Biss tried another form of communication.
Abruptly reaching her hand toward his, she stuck her fingers into his palm and wriggled them in a tickling fashion, saying, "Woogity, woogity, woogity!"
The startled boy looked up at her in bewilderment – and then began to laugh.
If Biss learned anything from her experience in Haiti – a trip sponsored by the College of Business Administration's Institute of Leadership Advancement – it is that sometimes the most effective forms of communication and expression are nonverbal.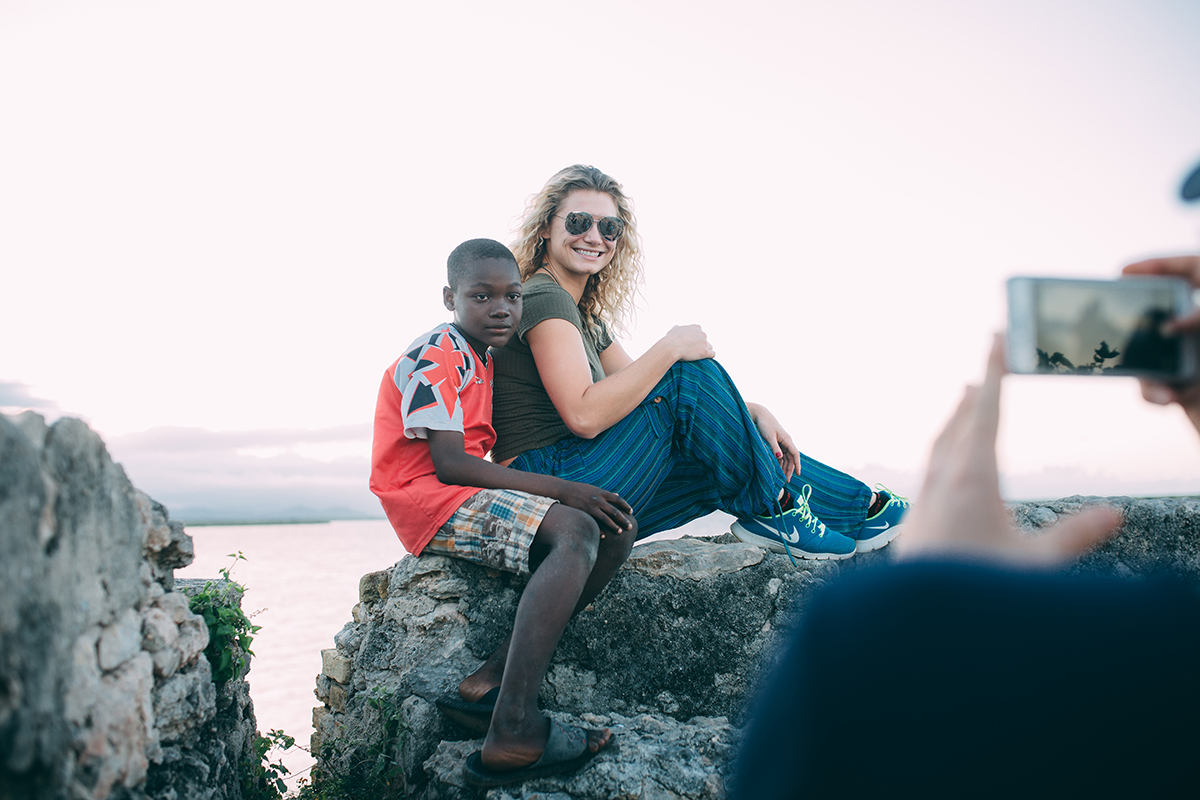 Olivia Biss is pictured here at

Fort-Liberté with one of her students.
"They would start dancing, so I would dance back, and that's kind of how we were able to communicate – which made me realize it's the universal form of communication, it's just nonverbal," she says. "No matter where you are, dance is just a part of culture."
Biss discovered that, where words often failed to establish a connection with the Haitians, she was able, through dancing, to engage them on a deeper level – speaking an expressive, mutually intelligible "language" of gestures, facial expressions and laughter.
It is a language, she says, that transcends cultural boundaries and reaffirms our common humanity.
"It just reminds you at the end of the day that you're human, just like them," Biss says. "We're all human, no matter where you're from."
Olivia Biss found dance was an effective way to communicate during her trips to Ouanaminthe, Haiti.
Life-changing time
So important was her discovery of the expressiveness of dance, that Biss, upon returning from that trip to Haiti in 2016, decided to minor in dance. A May graduate, she plans to pursue a career in entertainment, in which she hopes to use her other talents, including singing and acting, to bring joy to the lives of others, as she was able to do in Haiti.
Her experience in Haiti "changed her life" in other ways, as well, she says.
"These people are so rich in love, in happiness, and they are so grateful for what they have," she says, recalling a particularly memorable moment when, in a church service, the Haitians enthusiastically thanked God for all the blessings in their lives, despite living in abject poverty.
"It makes you realize that wealth is relative," Biss continues. "It's not simply a dollar sign."
One of those blessings, for which the Haitian students were most grateful, was their opportunity to take English lessons from the UA students, she says, pointing out that they happily piled into crowded classrooms – on their winter vacation, no less – to receive instruction.
Renewed commitment to own education
Biss says she was so inspired by the Haitian people on that first trip that she returned to UA with a renewed commitment to her own education and to helping others. She became a DJ for WZIP, our student radio station, and a member of the Zip Hop dance club. Biss also became the vice president of Zips for Haiti, a student organization that is raising funds for a Haitian student to pursue a four-year degree at UA. She is in charge of the group's chief fundraiser — roasting, packaging and selling Haitian coffee at the local Akron Coffee Roasters.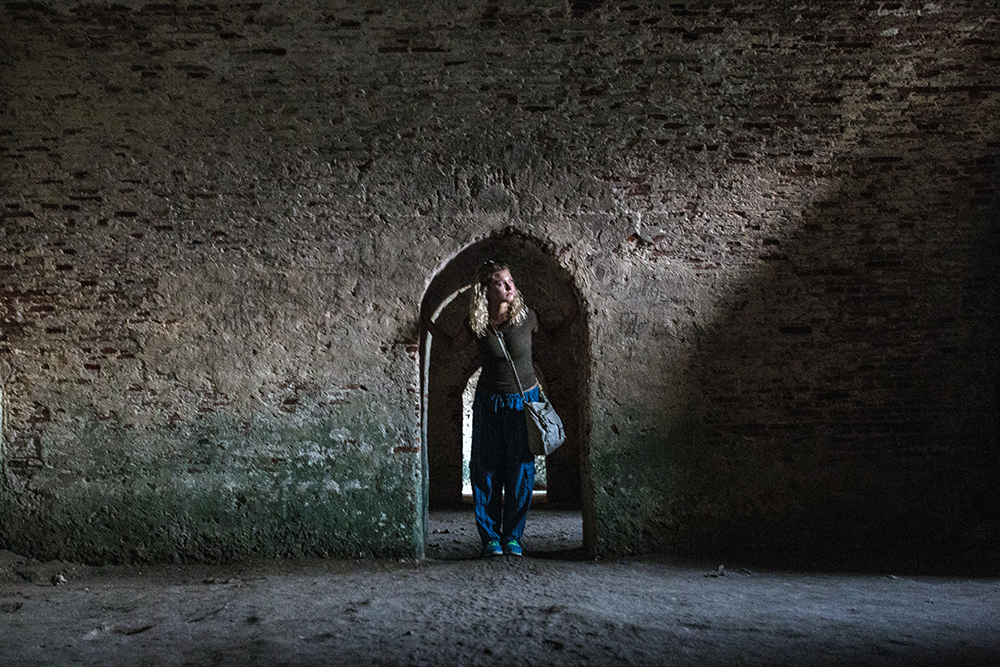 Olivia Biss does some exploring at Fort-Liberté during a December trip to Ouanaminthe, Haiti.
This past December Biss returned to Haiti for a second time, this time as a team leader – leading, of course, by well-coordinated and rhythmic example.
One day, while the students were playing soccer, she saw a tall kid watching the game from the sideline, acting as if he were "too cool" to interact with others. Biss decided, as she had done at the orphanage, to coax the boy into speaking with her.
"I bet you play soccer that well," she said.
"Psh. Yeah," he replied, without looking at her.
Biss noticed that the boy had his arms crossed behind his back. When she looked closer, she could not help but smile.
He had one arm, grabbing the sleeve where the other should have been.
Biss held out her hand, fingers pointing down. The boy smiled and reached out his palm.
"Woogity, woogity, woogity!"
It may not be English, but it is certainly human – and that is what matters.
---
Related
---