SOCIOLOGY CLUB OFFICERS ~ 2019 - 2020
Advisor
President:
Vice-President:
Treasurer:
Secretary:
Learn more on our OrgSync page
Letter from the President
Under Construction..

Sociology Club at the North Central Sociological Meetings in Cincinnati 2019.
Justin Persinger, Julia Bendel, Jessica Leyva, and Halley Vasko.
JOIN THE CLUB!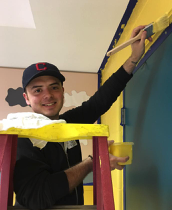 Joining Sociology Club is easy! Please print this form and fill it out. Then bring the form and fee to a sociology club meeting or to the Department of Sociology.
Note that there is a $10 membership fee per academic year (which is a great deal considering most meetings have free pizza and other goodies plus many more perks all for only $10 per academic year!).
Examples of events and activities in which we participate
Make a Difference Day
Various lectures and documentary/film screenings
Resume/LinkedIn "workshops"
Symposiums and research presentations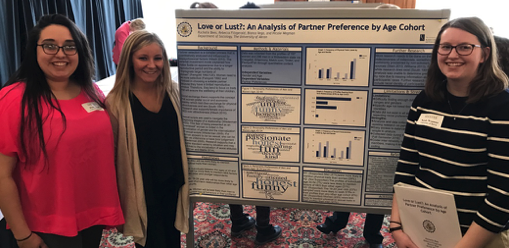 Three members of Sociology Club took home third place in the Poster Contest at the Northeast Ohio Undergraduate Sociology Symposium at the College of Wooster. Pictured here from left to right are: Bianca Vega, Vice-President Elect Rochelle Bees and Treasurer Elect Nicole Wegman.