SOCIOLOGY CLUB OFFICERS ~ 2019 - 2020
Advisor: Dr. Robert Peralta rp32@uakron.edu
President: Brandi Hancock bh94@zips.uakron.edu
Vice-President: Octavia Stokes ocs8@zips.uakron.edu
Secretary: Lukas Halfhill lmh157@zips.uakron.edu
Treasurer: Garrett Decker gad32@zips.uakron.edu
Social Media Officer: Tanisha Perera tp73@zips.uakron.edu
Letter from the President

Brandi Hancock

Goals of mine for the Sociology Club include spreading knowledge and information about sociology to other University of Akron students. I also want students of various majors and backgrounds to become familiar with the club and hopefully involved. Sociology Club is a club for anyone of any concentration. I have been welcomed into the club with open arms and the fact that everyone has been so welcoming and willing to help me further demonstrates the notion of Sociology Club really being a support group more than anything. Another goal for Sociology Club is to help students make real-world connections and to learn information that can go beyond the classroom. I also want Sociology Club to inspire students to think outside of the norm and to develop critical sociological skills using information and applying it to their everyday lives. I think Sociology Club should be a place where students can hone their skills and passions, a place where students can learn of their likes and dislikes, while building meaningful relationships with fellow students and faculty. I think Sociology Club should be the place where students and faculty can come together and do some really amazing things with the help of one another.
Sociology Club : The University of Akron
---

Sociology Club at the North Central Sociological Meetings in Cincinnati 2019.
Justin Persinger, Julia Bendel, Jessica Leyva, and Halley Vasko.
JOIN THE CLUB!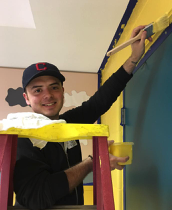 Joining Sociology Club is easy! Please print this form and fill it out. Then bring the form and fee to a sociology club meeting or to the Department of Sociology.
Note that there is a $10 membership fee per academic year (which is a great deal considering most meetings have free pizza and other goodies plus many more perks all for only $10 per academic year!).
Examples of events and activities in which we participate
Make a Difference Day
Various lectures and documentary/film screenings
Resume/LinkedIn "workshops"
Symposiums and research presentations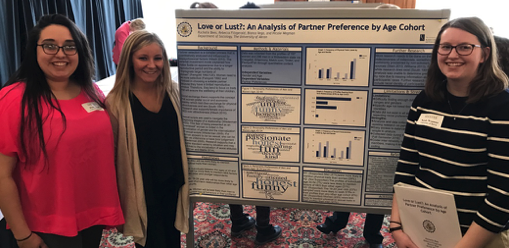 Three members of Sociology Club took home third place in the Poster Contest at the Northeast Ohio Undergraduate Sociology Symposium at the College of Wooster. Pictured here from left to right are: Bianca Vega, Vice-President Elect Rochelle Bees and Treasurer Elect Nicole Wegman.