College Access Bridge Program
Fall 2021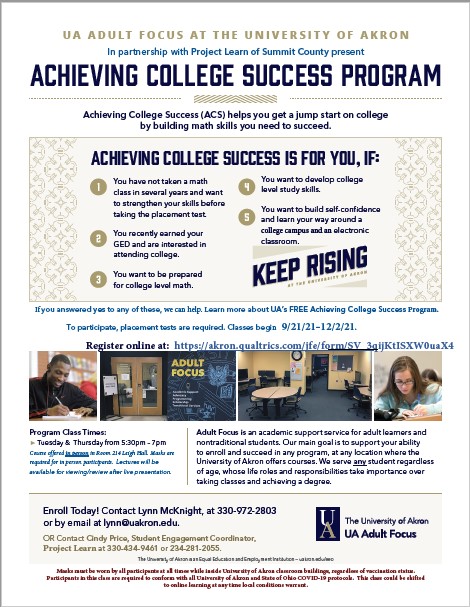 Adult Focus and Project Learn of Summit County have developed a College Access Bridge Program.
Are you an adult looking to return to or just starting your college career or are currently enrolled student who struggles with these subjects and needs to take developmental coursework in order to enroll in courses which count for your degree?
Do you want to save time and money?
Consider the College Access Bridge Program as a tool to assist you in doing both.
It is an ten-week course designed to reacquaint you with math skills and/or language arts skills which may not have been used in a while. The course begins a few weeks after the start of each semester (including summer).
It is free of charge and offered evenings T/Th beginning at 7:00 pm. To be eligible you cannot be enrolled in a writing or math course at The University of Akron during the semester in which you are taking the Bridge course.
To comply with state and university policies regarding COVID-19, classes will occur via online instruction--which we will assist you in navigating. Placement testing is available either online, or via individual socially distant in-person appointment. The courses are sectioned based on your Math university placement scores.
Contact Instructor Lynn McKnight for further information and to enroll. : 330-972-2803. lynn12@uakron.edu
Summer 2021 classes begin June 8th-August 12th.