Akron Law programs recognized by National Jurist preLaw magazine
05/03/2022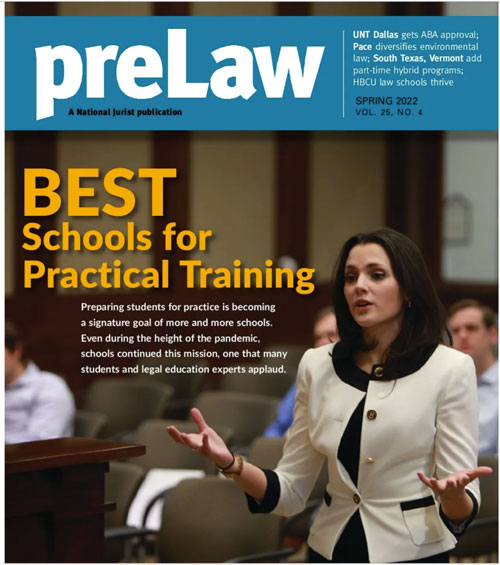 The National Jurist preLaw magazine has again recognized The University of Akron School of Law as a Top School for Practical Training and for Intellectual Property (IP) Law. Akron Law was ranked #29 in the nation for Practical Training. The Akron Law IP program received a grade of A-, placing it among the top 50 in the country.
The magazine rated schools for practical training based on a number of data points such as clinics, externships, pro bono hours and moot trial participation, with the heaviest emphasis given to clinics and externships. The magazine graded the top IP law programs based on the breadth of the curricular offerings, with the largest weight given for a concentration in IP, a clinic, a center and an externship.
"We are pleased to receive these high ratings from preLaw magazine for our IP law program and our overall focus on practical training," School of Law dean Emily Janoski-Haehlen said. "They are consistent with our recent recognition from U.S. News for our IP Law and Trial Advocacy programs.
"Our Center for Intellectual Property Law and Technology, established in 1996, has long been recognized as one of the country's leading IP programs. We offer four degrees, two IP-related legal clinics, a Washington D.C. IP externship program, and more than 30 courses in the field. With over 20% of the school's student body patent bar-qualified, Akron Law is one of the most IP-intensive schools in the nation," she added.
"We are also known for our program-wide emphasis on experiential learning. Akron Law students can represent real clients, appear in court, draft agreements, mediate disputes, help advise startup businesses, and hone their skills in competitions. Just this spring, our moot court team advanced to the semifinal round of the ABA's National Appellate Advocacy Competition and came away with the award for the fourth best brief in the nation."
MORE:
Share