Daniel Friesner named dean of College of Health and Human Sciences at University of Akron
11/30/2022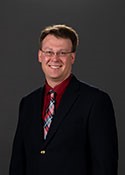 After a national search, The University of Akron (UA) has selected Daniel Friesner, Ph.D., as dean of the College of Health and Human Sciences. He will begin his role effective June 30, 2023, pending approval by the UA Board of Trustees.
Friesner currently serves as senior associate dean for the College of Health Professions, professor of pharmacy practice, and director of the Bachelor of Science in Health Services Program at North Dakota State University where he also previously served as associate dean for student affairs and faculty development and as interim associate dean for student affairs for the College of Pharmacy, Nursing and Allied Sciences. While at North Dakota State he successfully led the College's 2021-22 strategic planning process, served as the principal investigator on submissions to obtain funds to support joint faculty appointments with local health care facilities, served as the director of a NIH (COBRE)-funded Biostatistics Core Center, and worked with other leaders to guide the Doctor of Pharmacy program through multiple accreditation cycles. He also collaborated with faculty and administrators across the University to develop and promote a Master of Public Health program and designed and implemented a Bachelor of Science in Health Services degree.
"I am honored to be selected as dean of the College of Health and Human Sciences," said Friesner. "The College is optimally positioned to meet the evolving workforce needs of health care employers in the region. Its growing portfolio of research and service activities has made the College a leader in improving the health and well-being of residents in Summit County, and across the state of Ohio. I look forward to working with the College's faculty, staff, students and external stakeholders to celebrate, and continue to build upon, its track record of success."
As a health economist and applied economic statistician, Friesner's research interest lies in topics at the intersection between the provision of health care and economic development, using economic modeling to analyze behavior in health-related markets, the use of health care as an economic development tool, and the health-related consequences of economic and financial decisions. Another portion of his research examines the efficiency, productivity and quality of health care in hospitals, clinics and community pharmacies, examining how factors such as government policies and for-profit/nonprofit competition impact health care efficiency and quality.
"We look forward to having Dr. Friesner join our academic administrative team, and we are confident that his unique background will be a true asset to the University of Akron," said Executive Vice President and Provost John Wiencek. "His analytical skills, combined with strong experience in health education, will allow him to look at the College with a unique lens and help us to better grow and enhance the educational offerings for our students and the community."
In addition to his work at North Dakota State, he has also served as an associate professor in the School of Business and as Graue Chair of Economics at Gonzaga University; assistant professor in the Department of Economics at Weber State University; and as assistant professor in the Department of Economics and Finance at the University of Southern Indiana.
Friesner earned a Bachelor of Arts in Economics from Gustavus Adolphus College in St. Peter, Minn., and a Doctor of Philosophy in Economics from Washington State University.
As dean of the College of Health and Human Sciences, Friesner will be responsible for sustaining and growing the College's excellence in teaching, scholarship and service; promoting a team-oriented leadership approach; establishing a vision and strategic direction; driving further development and growth in enrollment, disciplines and degrees; and cultivating internal and external partnerships.
The College of Health and Human Sciences at UA is comprised of seven schools: School of Allied Health, School of Counseling, School of Disaster Science and Emergency Services, School of Exercise and Nutrition Sciences, School of Nursing, School of Social Work and Family Sciences, and the School of Speech-Language Pathology and Audiology. It is also home to the Akron-Region Interprofessional Area Health Education Center.
Share