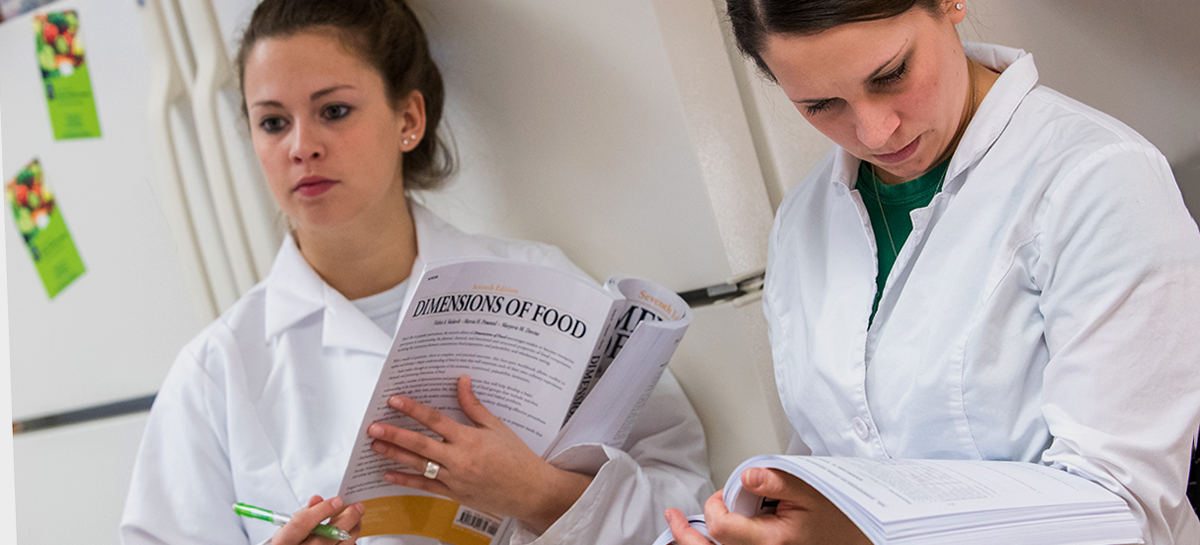 Undergraduate programs in nutrition and/or dietetics
This page describes the two paths available to you in nutrition and/or dietetics:
Bachelor of Science in Dietetics: Coordinated Program (CP)
The Coordinated program at University of Akron is one of only four coordinated programs in Ohio. This program enables students to complete their required supervised practice, along with the core knowledge and competencies for the Registered Dietitian at the undergraduate level. Students are placed in a variety of settings, including medical centers, long-term care facilities, school nutrition programs, health departments, wellness centers and many other locations. Students in the Coordinated Program are eligible to take the national Registration Examination immediately following graduation.
Students are eligible to apply for admission into the Coordinated Program at the end of their sophomore year. All applications are due by February 1st
Program Requirements: Coordinated Program
Complete B.S. in Dietetics
Complete required Supervised Practice Clinicals
To become a Registered Dietitian, a student must:
Complete the academic requirements;
Complete the supervised experience in dietetics practice;
Obtain appropriate verification; and
Pass the National Dietetic Registration Examination.
For students possessing a nutrition or dietetics degree or a verification statement from a program accredited by the Accreditation Council for Education in Nutrition and Dietetics (ACEND), the Coordinated Program at the University of Akron is offering an opportunity for students with extenuating circumstances to apply to the program. If you have been working in the profession in the area of community nutrition, food systems management, or medical nutrition therapy after receiving your degree, you will receive credit for prior learning. This will provide an opportunity for you to participate in a variety of placements or be exempted from coursework. Students needing an additional year to complete the program because of financial circumstances or other commitments may apply for a special position granted to the Coordinated Program. Up to two students can be selected for either of these extenuating circumstances. Application for the Coordinated Program remains the same. The selection committee will consider all requests for extenuating circumstances when rendering their decision.
For further information refer to the Policy for Waiving Supervised Practice Experience please see Waiver Policy.
Accreditation is a mark of excellence.
The University of Akron is accredited by the Accreditation Council for Education in Nutrition and Dietetics (ACEND) for the Coordinated Program in Dietetics. ACEND is located at 120 S. Riverside Plaza, Suite 2000, Chicago, IL 60606-6995. Phone: (312) 899-0040, ext. 5400; Fax: (312) 899-4817. Web address: eatright.org
---
Bachelor of Science in Food and Environmental Nutrition
The Bachelor's of Science degree program in Food and Environmental Nutrition (FEN) is designed to meet the needs of the food industry. Students who have a specialized interest in the food industry would have the option for a major in food and nutrition and would be able to design their curriculum to attain a degree in Food and Environmental Nutrition from the beginning of their coursework. FEN prepares and equips students for the food industry's fast pace and cross-functioning team approach. With a strong food, science, and nutrition based curriculum partnered with business and management. FEN graduates are qualified to work in a diverse range of opportunities in the food industry immediately after graduation and contribute to innovative solutions to the evolving challenges of the food industry.
Internships are available to enhance the student experience at the University of Akron. Current partnerships exist with local food industry to provide the experience needed to help students thrive in their career. Every aspect of FEN – its mission, courses, core competencies, and internships – was developed in partnership with experts in the food industry. National food companies, local food producers, and professional food industry organizations continue to provide support and input.
Dietetic majors could augment their Dietetics degree by completing both the dietetics requirements and requirements for a degree in Food and Environmental Nutrition. Students who have met the course requirements for a dietetic internship, but who do not wish to complete an internship, would be able to complete this degree option in approximately two additional semesters for a degree in Food and Environmental Nutrition. Students in this degree program would follow the Dietetic program coursework from freshman through the third year to establish a strong scientific base for the Food and Environmental Nutrition degree. A minimum of 128 credits are required to graduate from this program.
---
FAQs
Can I enter a UA dietetics program with a GPA below 3.0 under any circumstances?
No. You will need a 3.0 or better GPA in your first year of courses, 32 semester hours, and first-year courses completed for admittance into Nutrition/Dietetics.
What is the process of declaring Dietetics as a major? How do I transfer into the College of Health Professions?
Once prerequisites are met, students must complete an Inter-College Transfer Sheet.
Will a 'C' grade or lower in the sciences or dietetics-specific classes hurt my chances of getting an internship or entering the Coordinated Program at UA?
Yes.
Is there any way to move on to a course on my contract if I miss or fail a pre-requisite?
No. You must take or retake the pre-req. course with a passing grade. Your graduation will likely be delayed by a semester or more.
---
Questions?
To speak with an academic adviser about anything on this page, please contact:
College of Health Professions Student Success Center
Mary Gladwin Hall 313
330-972-5103