Lights, camera, stream: UA students learn skills to broadcast esports competitions
05/22/2018

Battle scenes in fantasy worlds. Rocket-powered cars playing soccer in ultramodern arenas. Trading card characters destroying their opponents. All while esports "shoutcasters" commentate on the unfolding gameplay. If you blink, you might miss the action.

So, what goes on behind the curtain of an intense esports broadcast?

Students at The University of Akron are finding out through a new summer course devoted to esports production.

The course — Topics in Media Production: Esports Broadcasting — is offered through Z-TV, our student-operated and Emmy-award winning television station. The three-week course is being led by Juan Contreras, general manager of Z-TV and a professor of practice in the School of Communication. Students in the course will learn to create content that requires an alternative delivery method than traditional television for audiences that are gravitating toward online streaming services.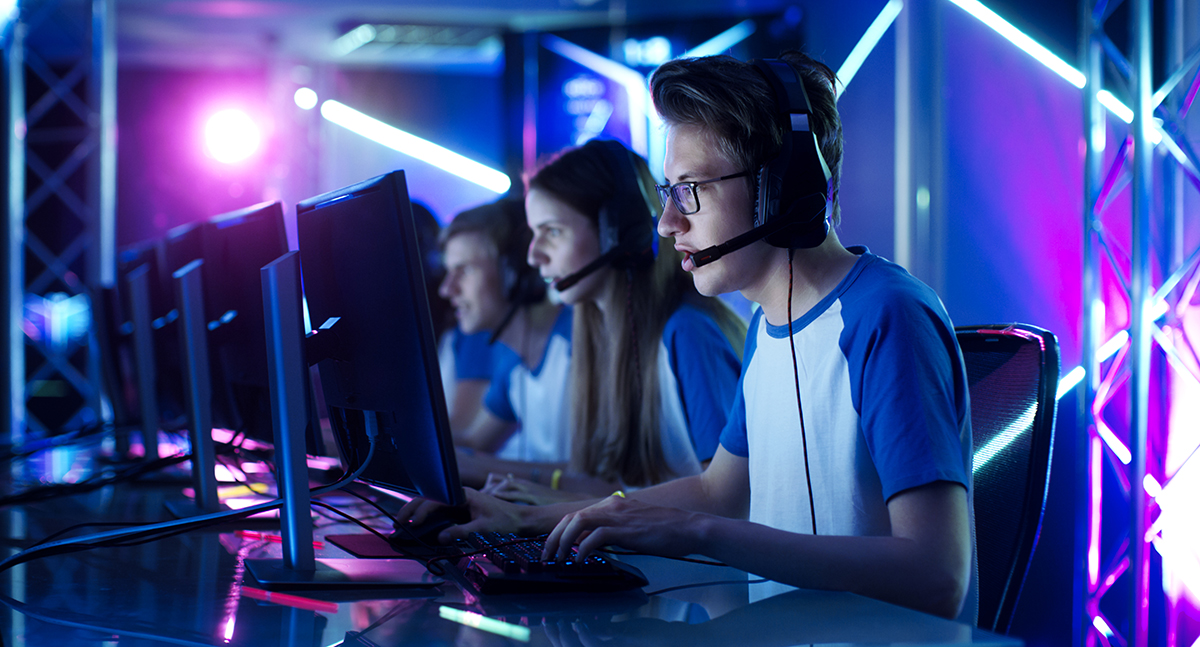 "This class will demonstrate how esports is a great resource for experiential learning and the development of job skills for media production students," said Contreras. "There's a continuing shift in how audiences are being entertained, which is why a lot of programmers are creating content for streaming services. This is a great opportunity for Z-TV students to learn how to cater to contemporary audience habits and sharpen their production skills."
Experiential learning opportunities
The 3-credit, upper-level course will teach students how to use production equipment that will allow for simultaneous live streaming of multiple esports competitions through numerous cameras via delivery channels like YouTube, Twitch, Facebook Live and traditional television. The course will require students to stream competitions in the Z-TV studio and learn how to do similar streams on location outside of the studio, all while utilizing graphics, special effects and green screens.
"Live esports broadcasts and video game livestreaming are almost entirely responsible for the rapid growth of the esports industry," said Michael Fay Jr., director/head coach of esports programs at UA. "As peak viewership for esports broadcasts begins to rival that of conventional sports broadcasts, students who have a depth of experience with the differences in production between the two will have a competitive edge in the job market."
UA is the first public university in northern Ohio to create a varsity esports program. Student support staff, including five student coaches, have been added to the program. Following tryouts in April for the varsity teams, the support staff have been involved in the ongoing selection process of 44 players. The varsity teams will compete in five games: League of Legends, Counter Strike: Global Offensive, Overwatch, Hearthstone and Rocket League. Esports is organized team-based, multiplayer online video gaming that is growing in popularity with professional and amateur participants, along with viewers. A recent championship tournament attracted nearly as many viewers as the Super Bowl through viewing online, and at movie theaters and other venues. Video game competitions are regularly streamed on the internet and broadcast on television, including the Big Ten Network.
---
Media contact: Alex Knisely, 330-972-6477 or aknisely@uakron.edu.
---
Related
---