Women's Studies | Current events
Founder of #MeToo movement to speak April 17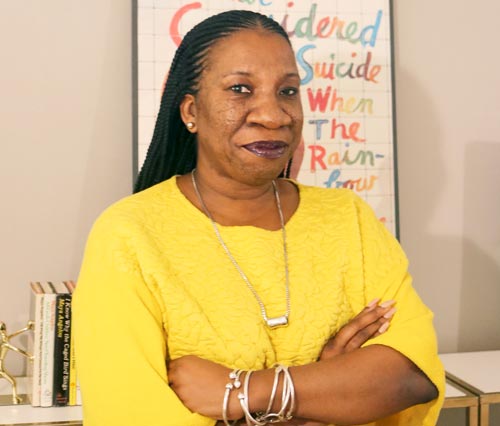 Tarana Burke will speak at UA on April 17.
Tarana Burke, who founded the #MeToo movement in 2006, will present "Me Too" on Tuesday, April 17, at 7 p.m. in the Student Union Ballroom. The talk, sponsored by the Women's Studies Department, is free and open to all.
Burke saw #MeToo grow into a worldwide campaign in 2017 to raise awareness about sexual harassment, abuse and assault in society. The phrase grew out of a conversation Burke had with a girl who talked of being sexually abused.
RELATED: Sexual Assault Awareness Month activities at The University of Akron
"On one side, it's a bold declarative statement that 'I'm not ashamed' and 'I'm not alone,'" Burke said in an interview with CNN. "On the other side, it's a statement from survivor to survivor that says 'I see you, I hear you, I understand you and I'm here for you, or I get it.'"
A civil rights activist and women's empowerment speaker, Burke is the senior director of Girls for Gender Equity in Brooklyn, N.Y. She was featured as a Time magazine Person of the Year in 2017.
For more information, contact Dr. Mary Triece, professor of communication and director of women's studies, at mtriece@uakron.edu.
---
'Rethinking Gender' Series
Spring 2018
Rethinking Gender provides a forum for presenting the research of feminist faculty at The University of Akron and nearby colleges and universities.
All Rethinking Gender talks will be held in the Student Union - Room 316 on UA campus (see on map).
Wednesday Feb. 14, 2018, noon- 1 p.m.
Cynthia Andrews, Executive Director, Oberlin Community Services
Jeanine Donaldson, Executive Director, Elyria YWCA
Tania Boster, Associate Director, Bonner Center at Oberlin College and Conservatory
"Rethinking Women in Poverty Through Empowerment, Education, Employment: A Collaborative Approach"
Wednesday March 14, 2018, noon-1 p.m.
Samuel Dwinell, Assistant Professor of Instruction, UA School of Music
"Queer Outta Compton: Race-ing the Closet in Hip Hop Documentary"
Wednesday April 11, 2018, noon- 1 p.m.
María Alejandra Zanetta, Distinguished Professor of Spanish Literature and Culture, UA
"Anticipations of Ecofeminist Thinking in the Paintings of Maruja Mallo and Raquel Forner"