Women's Studies events
---
DOCUMENTARY SCREENING AND Q&A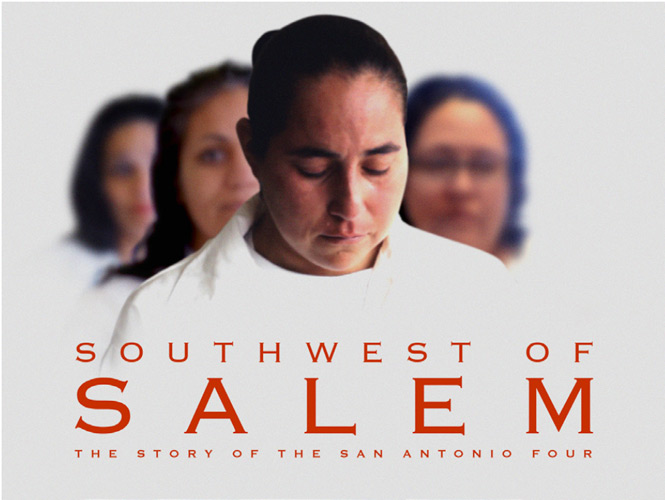 Q&A with Anna Vasquez
Southwest of Salem: The Story of the San Antonio Four and Q&A with Anna Vasquez, one of the women featured in the film.
When: 7 - 9 p.m.
Where: Jean Hower Taber Student Union Gardner Theatre
The film explores the wrongful convictions of four Latinas in San Antonio in a late 1990's cultural context of homophobia, sexism, and racism. With the help of the Texas Innocence Project, the four women were eventually released from prison.
Free and open to the public!
---
RETHINKING GENDER SERIES, 2022-23
All events are on Fridays at noon to 1 p.m. in the Student Union. Rooms may differ, be sure to check the details below.
Date
Location
Presentation

Sep. 30, 2022

Rm 308

Born To Care (Or Not): How Gender Attitudes Affect Occupational Sorting

Dr. Amanda Weinstein is Associate Professor of Economics at The University of Akron. Her talk explores how childhood and adolescent exposure to gender biased norms about work affect the gender care occupation gap.

Oct. 21, 2022

Rm 308

Whither Masculinity: Man-up or Human-up?

Dr. Ronald F. Levant is Professor Emeritus of Psychology at The University of Akron. His most recent book is The Tough Standard: The Hard Truths About Masculinity and Violence (Oxford, 2020). He is widely considered one of the key people responsible for creating the field of the psychology of men and masculinities.

Nov. 11, 2022

Rm 308

Ghosts in the data: women, race, and charity in early 20th century Akron

Talk given by Dr. Carolyn Behrman, Professor in Anthropology at UA. Behrman's scholarship has focused on women's work and family health in urbanizing locales in Eswatini (southern Africa), in trailer parks in Washington State, and in Akron's Middlebury and North Hill neighborhoods. In a departure from her usual work with live humans, she has co-authored a book on the Summit County Infirmary and the burials in Akron's Schneider Park. This presentation draws on some of that work.

Feb. 3, 2023

Rm 308

Climate Stress, Environmental Injustice, and Gender Behind Bars in the U.S.

Dr. Daniela Jauk-Ajamie is Assistant Professor in the Departments of Criminal Justice and Sociology at The University of Akron. on the mobility and resilience of veterans and on the resilience of cities. She is currently collaborating on a book, Gardening Behind Bars. Her work has been published in Women and Criminal Justice, Sexualities, and Societies Without Borders.

Apr. 7, 2023

Rm 308

National Poetry Month Reading with Mary Biddinger and Mixby Dickon

Dr. Mary Biddinger (she/her) teaches in the Department of English and in the NEOMFA program, and edits the Akron Series in Poetry for the University of Akron Press. She is the author of the poetry collection Department of Elegy. Her poems have been published in Bennington Review, Couplet Poetry, and Pithead Chapel.

Mixby Dickon (they/them) is a non-binary poet and self-described anarchist from Akron. When they are not screaming their poetry to the feral animals outside their bedroom window, they can be found looking for vegetarian recipes online, doing kitchen witchery, or generally enjoying being feral in urban environments. Their work has appeared in Rubbertop Review. They are a third-year poetry student in the NEOFJA program.
OTHER TALKS OF INTEREST
Date
Location
Presentation

Oct. 27, 2022
2-3 p.m.

Cummings Center

Talks hosted by the Drs. Nicholas & Dorothy Cummings Center for the History of Psychology

Dr. Elisabeth Yang will be presenting on the medicalization of the home nursery at the turn of the 20th century (this connects particularly with our current exhibit: "Scientific Nursery" which explores psychologists' advice to caregivers in the 20th century)

Nov. 3, 2022
2-3 p.m.

Cummings Center

Hosting author Jonathan Swinton

Discussion about the life of Molly Harrower and her experiences as a woman scientist before the rise of 1970s feminism.

Nov. 16, 2022
12-12:45 p.m.

Polsky 404

LGBTQ Community, Mental Health and Family: A Public Health Perspective and Solutions

Youth and young adults are experiencing a mental health crisis, and LGBTQ+ young people are most at risk. Mental health issues also co-occur with substance use issues, as young people struggle to cope anxiety and depression, often with little or no family support. With funding from the Society for the Study of Social Issues, the Center for Family Studies is bringing these issues into the light, and encouraging frank discussion and solution-focused conversation.

Please join us—we need your voice.

Snacks and drinks will be served.