Current College Credit Plus Students
This information is for students who are already accepted and enrolled in the College Credit Plus program. Also, information for those of you that will be graduating from high school soon.
---
TUITION AND FEES
Costs included with the CCP program for students receiving dual credit:
All tuition and fees applied at the time of registration
Registration fees

Including changes in UA course schedule if changes are due to secondary school schedule conflicts initiated by a UA administrator

All required textbooks and non-consumable items (not applicable for homeschooled students*)

Please note: All items must be returned to the high school at the end of the term
Costs not included:
Parking pass and/or fees are the responsibility of the student (applies to the Akron campus only)
*Homeschooled students are responsible for purchasing their required textbooks
IMPORTANT INFORMATION TO KNOW/DO
Check your UA email account frequently.
Always remember to state that you are a College Credit Plus student when you speak with any UA department.
Books must be returned by the end of exam week each semester.
Guidelines and dates
Online resources
Memorize your student ID number and UANet ID to login to My Akron.
For UANetID/password issues contact the IT Help Desk at 330-972-6888.
SCHEDULE CHANGES & ACADEMIC ADVISING
Current CCP students must see your advisor for all schedule changes and you should always consult with your high school guidance counselor prior to making any adjustments.
CCP Academic Advising Office
Polsky Building, room 286
330-972-5858
Direct contact info for your CCP advisor can be found in the Student Center in My Akron (see picture).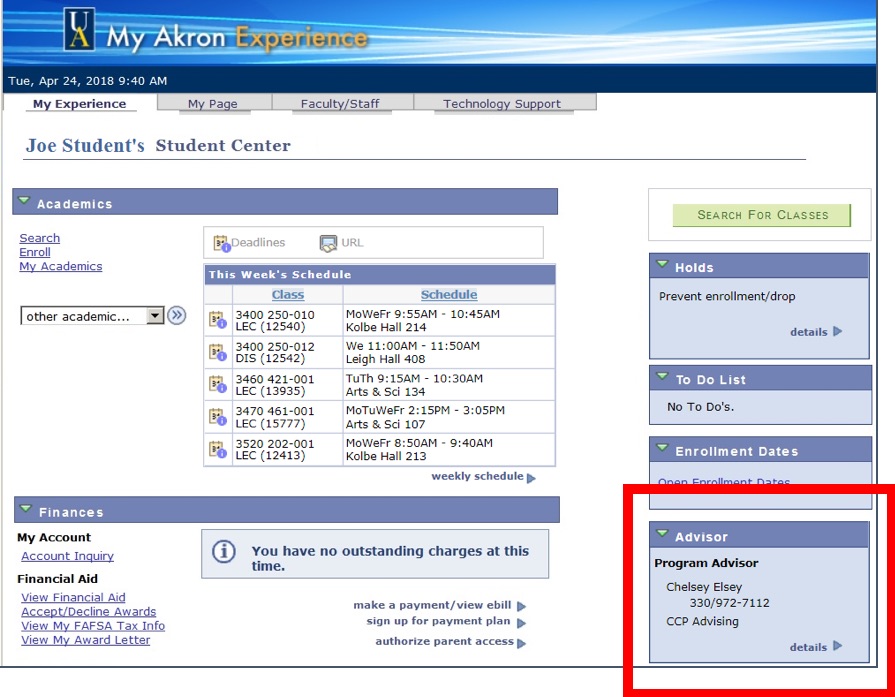 Find us online
GRADUATING CCP STUDENTS
If you are enrolled in the College Credit Plus program and graduating high school you must reapply to the university to be admitted as a new college freshman at UA.
Re-application requirements:
To apply as a new freshman, please submit the following credentials:
Undergraduate Application for Admission
Official High School Transcripts
ACT or SAT scores (if retaken since applying for CCP)
You are required to pay the $50 application fee and later the $145 confirmation fee to become a freshman student.
Transfer of credits to another institution
All subsequent colleges/universities will require an official copy of your UA transcript when you apply. You may request a transcript through My Akron; select the "Request Transcripts" icon.

Failure to disclose that you have attended The University of Akron could be considered as falsification of your record, and a college/university could deny you admission.

Each college/university establishes its own policy for the transfer of credits. However, all state universities and community colleges in Ohio have agreements that assure the transfer of credits.

You can visit the Transferology website to discover which credits will transfer. In addition, feel free to call any college you are considering to ask about its' transfer policy.
PROGRAM CONTACTS
Greg Dieringer
Coordinator of the CCP Program
Director of College Credit Plus
330-972-7572
gdierin@uakron.edu
Additional contact information: