Community Garden serves as living, breathing urban oasis
06/30/2022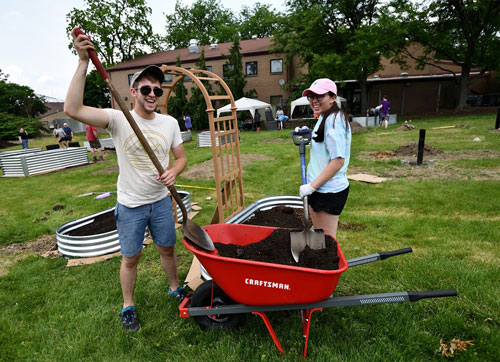 Sure, a garden is a patch of land used for growing vegetables, fruit, herbs or flowers. But it is also commonly defined as a place for public gatherings— such as New York's Madison Square Garden.
Here at The University of Akron, (UA), both definitions apply.
On the site of a former fraternity house, next to a state highway building and across from a local church, sits an urban oasis that not only provides fresh produce for students in need, but also serves as a gathering place for learning and growing relationships.
Located on Fir Hill Rd., UA's Community Garden was a hotbed of activity earlier this summer when Alison Doehring, director of ZipAssist, taught an [Un]class called Zips Grow Together. Produce from the Community Garden is distributed through UA's Campus Cupboard initiative.
Just to unpack a few terms: ZipAssist serves as a central information hub, intentionally designed to share available resources, and provide support and assistance to help students be successful at UA. Campus Cupboard provides non-perishable food and hygiene items to any UA student who is in a financial pinch. And an [Un]class is a short-term course that utilizes hands-on, problem-based, community-centric learning.
The goal of an [Un]class is that students learn and hone practical skills like resilience, creative and innovative thinking, flexibility, teamwork and risk-taking, versus achieving specific topical knowledge," said Dr. Christin L. Seher, co-director of the EX[L] Center for Community Engaged Learning, which is the home of [Un]classes,
In the case of Zips Grow Together, students started with the problem of food insecurity on campus and asked how they could create a space that not only helped provide fresh, affordable produce, but do so in a way that supports the mental health of all students and strengthens the Zips community.
The course satisfied requirements of the Williams Honors College as a Natural Science Colloquium.
Students in the [Un]class got right to work mixing concrete alongside UA's grounds crew and physical facilities staff. They hauled dirt and mulch with administrators and staff from disciplines and units/offices they typically wouldn't have interacted with, and were taught by students from the Urban Agriculture club.
Seher, who helped instruct the class, said one of the students told her that they had "met and connected with more people from around campus in the previous eight days than they had during their entire time so far at UA."
"That's really the essence we're trying to build through the [Un]class experience," Seher added, "that sense of connection to people and place, through tackling a shared problem."
Doehring taught the three-week class through the lens of, "How can we take a space and redo it, then also give it a new identity and a new life?"
In week one, the students met with campus experts, including representatives from Myers School of Art, Nutrition & Dietetics, and UA grounds crew and carpentry experts. In week two, they met with external organizations, such as Neighborhood Network and Keep Akron Beautiful, before drafting a plan for the redesign.
"What came through the brainstorming was the idea of creating a space we could use for research, for gathering, and for giving students an outdoor/park-like experience on an urban campus while also growing food," said Doehring.
In the last week of the course, students started on their redesign and worked in the space. They built and installed 12 new beds, planted various vegetables, fruits and herbs, installed a trellis for vining squash, and installed five picnic tables with the help of the carpentry shop. Students also created a hammock-hanging zone, so people can hang out under shade trees near the property.
"There is something really cool and unique about garden to table—food that is literally being grown here at UA being brought over to the Campus Cupboard and given to students who need it," said Doehring. "But our tagline is that it's more than just food."

For example, the Department of Biology will be installing four raised beds so students can study how bees interact with pollinator flowers. They also have two beehives in the garden that will be used for research. And students from Myers School of Art will be creating a series of signs for the space.
Now that the [Un]class is complete, work on the garden continues with the help of an army of volunteers. Faculty and staff who have either a green thumb or a desire to help have stepped up. Even students from local high schools—like Archbishop Hoban—have pitched in as part of their summer service program.
"We will continue to have ad hoc volunteer days to ask people to help with weeding, planting, and moving mulch and dirt," said Doehring. "Once we get the space done, we'll need help with upkeep, but right now, we're still building the space."
Lastly, since the garden initially started thanks to one donor's gift, Doerhing hopes other donors might have an interest in the space—not only to maintain it, but also continue to enhance it with more beds, benches, flowers, birdhouses and windchimes.
"Donations can give some solid footing to the garden that would help it grow and flourish in a positive way," Doehring added.
To learn of the many ways you can become involved with or donate to Campus Cupboard, visit uakron.edu/cupboard/.
---
Media contact: Cristine Boyd, 330-972-6476 or cboyd@uakron.edu
Share