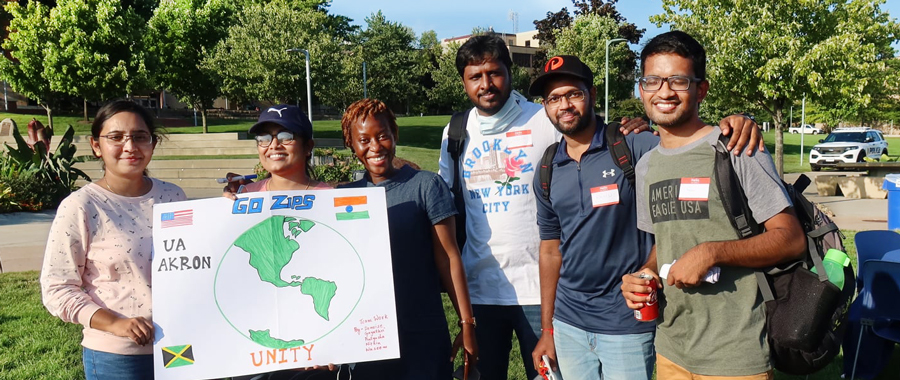 Current international students
The International Center assists all international students from orientation to commencement. We can help with visa, immigration, or status concerns, housing, campus and community integration (including conversation partners) and much more.
Return to campus
Scam prevention
On this page:
---
Immigration Updates
Suspension of Visa Services
The U.S. Department of State has suspended all routine visa services. If you are considering departing the U.S. and will need a new visa to return, please watch this page for updates and/or contact the consulate at which you plan to apply for a visa.
Coronavirus Travel Restrictions
President Trump has suspended the entry of individuals who are not U.S. citizens or permanent residents who have been in China, Iran, and certain European countries at any point in the 14 days prior to their scheduled arrival in the U.S.

See more information

here

.
Public Charge
Under U.S. law, all applicants for a visa, admission to the U.S., or adjustment of status are inadmissible to the U.S. if they are likely at any time to become a "public charge."
New rules set forth by the U.S. Department of Homeland Security (DHS) and U.S. Department of State (DOS) require these Departments to consider the "totality of the circumstances" and make a forward-looking determination whether an applicant for a visa, admission to the U.S., or adjustment of status to lawful permanent residence are likely to become a public charge at any time in the future.
Additionally, DHS implemented a "public benefits condition" for change of status (COS) applicants. COS applicants must demonstrate that "since obtaining the nonimmigrant status" they seek to change, until their petition is adjudicated, they have not received one or more of the listed public benefits over the designated duration threshold.
Some of the listed public benefits include:

Supplemental Security Income;
Temporary Assistance for Needy Families;
Any federal, state, local, or tribal cash benefit programs for income maintenance (often called general assistance in the state context, but which may exist under other names);
Supplemental Nutrition Assistance Program (formerly called food stamps);
Section 8 Housing Assistance under the Housing Choice Voucher Program;
Section 8 Project-Based Rental Assistance;
Public Housing; and
Federally funded Medicaid (with certain exclusions).

These rules are still being challenged in court, but DHS and DOS began implementing the rules on February 24, 2020.
---
May I receive unemployment benefits if I am laid off from my job?
Nonimmigrants are generally ineligible for unemployment benefits, but this may vary from state to state. Check with your state's unemployment agency. If you are eligible, DHS has stated that it "would not consider federal and state . . . unemployment benefits as public benefits under the public charge inadmissibility determination as these are considered to be earned benefits through the person's employment and specific tax deductions." 84 FR 41292.
May I receive government-provided medical treatment or preventative services related to COVID-19?
More questions?
We encourage you to contact an experienced immigration attorney if you have specific questions about "public charge" in relation to your situation, as this is beyond the scope of our office's ability to advise.
---
Social media question on visa applications
The U.S. Department of State has added a "social media" question to Form DS-160, the online nonimmigrant visa application for identity resolution and vetting purposes. The new item requires applicants to indicate which social media platforms they have used during the past 5 years and provide usernames or handles used on those platforms. Do not provide your password. According to DOS, more updates to Form DS-160 will be added in the future. Students are encouraged to review their social media postings to see what they have conveyed.
SEVIS fee increase
The Student and Exchange Visitor Program (SEVP) will be implementing changes to the I-901 SEVIS fee on June 24, 2019. The I-901 SEVIS fee for F students will increase from $200 to $350 and the I-901 SEVIS fee for J exchange visitors will increase from $180 to $220. Most students and visiting scholars who have already paid the I-901 fee are not affected by this change.
Notice to Appear (NTA)
A Notice to Appear (NTA) is a document instructing an individual to appear before an Immigration Court for removal proceedings. Starting October 1, 2018, U.S. Citizenship and Immigration Services (USCIS) may issue an NTA on denied applications such as Form I-485 (Application to Register Permanent Residence or Adjust Status) and Form I-539 (Application to Extend/Change Nonimmigrant Status), if the applicant no longer is in a period of authorized stay and does not depart the United States. USCIS has indicated it will post updates and information on the Notice to Appear Policy Memorandum page.
Request for Evidence (RFE) and Notice of Intent to Deny (NOID) policy
Old policy: In 2013, U.S. Citizenship and Immigration Services (USCIS) issued guidance instructing adjudicators to issue Requests for Evidence (RFEs) when evidence submitted at the time of filing an application or petition to USCIS did not establish eligibility for the benefit sought. The guidance also provided that denials should only be issued where there was no possibility the deficiency could be cured by the submission of additional evidence.


New policy: On July 13, 2018, USCIS announced a new policy that "restores to the [USCIS] adjudicator full discretion to deny applications, petitions, and requests without first issuing an RFE or NOID, when appropriate." This guidance becomes effective September 11, 2018. Students are strongly urged to carefully review their applications and petitions to USCIS to ensure they have provided complete applications and included all necessary supporting documents.
Travel Ban
On June 26, 2018, the U.S. Supreme Court upheld President Trump's Proclamation 9645 ("Travel Ban 3.0"),

which limits entry to the United States by certain citizens of 7 countries (Iran, Libya, North Korea, Syria, Somalia, Venezuela, and Yemen). The travel restrictions are country-specific. In addition, on January 31, 2020, the Trump administration expanded the travel ban ("

Travel Ban 4.0

") on travelers from 6 more countries (Eritrea, Kyrgzstan, Myanmar, Nigeria, Sudan, and Tanzania). Travel Ban 4.0 does not impact the ability to acquire F-1, J-1, or H-1B visas or enter the U.S. in these categories. If you have questions regarding how these Travel Bans may affect you or loved ones that wish to visit the United States, please

contact Robyn Brown, Executive Director of Global Engagement.
---
Academic Assistance & Tutoring for International Students
The English Language Institute, offers individualized, one-on-one and small group assistance and tutoring. These services will help if you are an International Student at UA, English is not your first language, and/or you are currently writing a Thesis or Dissertation.
Employment Information for International Students
---
F-1 and J-1 Students: Maintaining Status
Students in F-1 or J-1 nonimmigrant status must follow federal regulations to maintain lawful status in the U.S. Click on your nonimmigrant status below to read more about maintaining status at The University of Akron.
If you have questions, email immigration@uakron.edu or call 330-972-6349 to set up an appointment to meet with an advisor at the International Center.
Visit the following government websites for more information:
Handbooks:
---
Groups for International Students
A number of groups on campus and in the community make it easier for you to adjust to living in the U.S. and getting to know both UA and Akron.
---
Immigration Forms
See our forms directory to report changes, apply for work authorization, information packets and applications related to F-1 and J-1 status etc.
---
Immunization update
As you may be aware the United States and other countries are experiencing a resurgence in vaccine-preventable measles infections.
Immunization information you need to know
---
Tax Information for 2020
We will help guide you through what you need to do comply with US tax law and understand the tax filing requirements of your visa. All non-immigrants in the US who were present at some time during 2019 are required to file tax related documents.
Deadline: Due to COVID-19, the IRS has moved the tax filing deadline for this year only from April 15 to July 15. Deadline: Your taxes MUST be in the mail by July 15 to avoid any possible late fee from the IRS.
International Student Programs & Events
International Friends Program
The International Friends Program connects international undergraduate students with local families to develop meaningful intercultural exchange, friendship and support for international students while they are in the USA.
---
Conversation Partners Program
The Conversation Partners Program gives international students a chance to improve their conversational skills with native English speakers. It is an opportunity to speak in English, socialize, meet new people who want to help you feel welcome in the U.S. and learn more about American culture.
If you are interested in participating, learn more and sign up here!
---
International Education Week
International Education Week (IEW) is an opportunity for international students, faculty, and staff to highlight the rich cultural diversity we have here at UA. The annual event, held each October or November, features cultural performances, international food, guest speakers, and more.
If you are interested in participating, contact international@uakron.edu.
---
Events calendar
See the university's events calendar to know about upcoming shows, lectures, exhibits, gatherings, athletics and more.
International Students Resources