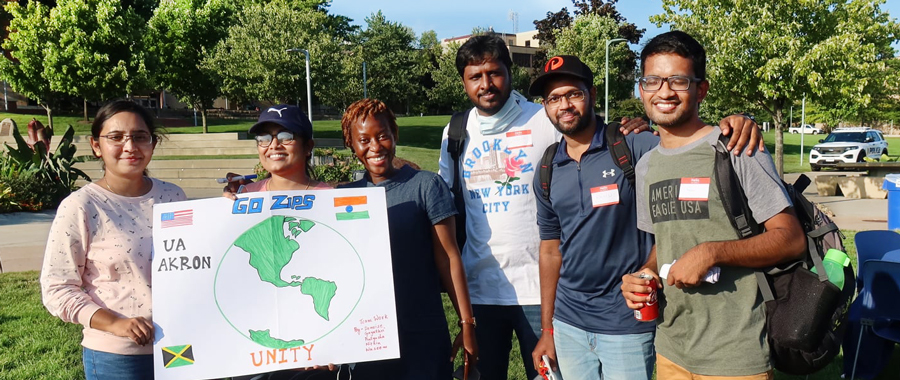 Current international students
The International Center assists all international students from orientation to commencement. We can help with visa, immigration, or status concerns, housing, campus and community integration (including conversation partners) and much more.
COVID19 information:
Scam prevention
On this page:
---
Immigration Updates
Public Charge
On March 9, 2021, the U.S. Department of Homeland Security announced that it has stopped applying the Public Charge Final Rule to all pending applications and petitions that would have been subject to the rule. U.S. Citizenship and Immigration Services also will not apply the "public benefits condition" to applications or petitions for extension of nonimmigrant stay and change of nonimmigrant status.
If you have specific questions about "public charge" in relation to your situation, we encourage you to contact an experienced immigration attorney.
Social media question on visa applications
The U.S. Department of State has added a "social media" question to Form DS-160, the online nonimmigrant visa application for identity resolution and vetting purposes. The new item requires applicants to indicate which social media platforms they have used during the past 5 years and provide usernames or handles used on those platforms. Do not provide your password. According to DOS, more updates to Form DS-160 will be added in the future. Students are encouraged to review their social media postings to see what they have conveyed.
SEVIS fee increase
The Student and Exchange Visitor Program (SEVP) will be implementing changes to the I-901 SEVIS fee on June 24, 2019. The I-901 SEVIS fee for F students will increase from $200 to $350 and the I-901 SEVIS fee for J exchange visitors will increase from $180 to $220. Most students and visiting scholars who have already paid the I-901 fee are not affected by this change.
Notice to Appear (NTA)
A Notice to Appear (NTA) is a document instructing an individual to appear before an Immigration Court for removal proceedings. Starting October 1, 2018, U.S. Citizenship and Immigration Services (USCIS) may issue an NTA on denied applications such as Form I-485 (Application to Register Permanent Residence or Adjust Status) and Form I-539 (Application to Extend/Change Nonimmigrant Status), if the applicant no longer is in a period of authorized stay and does not depart the United States. USCIS has indicated it will post updates and information on the Notice to Appear Policy Memorandum page.
Request for Evidence (RFE) and Notice of Intent to Deny (NOID) policy
Old policy: In 2013, U.S. Citizenship and Immigration Services (USCIS) issued guidance instructing adjudicators to issue Requests for Evidence (RFEs) when evidence submitted at the time of filing an application or petition to USCIS did not establish eligibility for the benefit sought. The guidance also provided that denials should only be issued where there was no possibility the deficiency could be cured by the submission of additional evidence.


New policy: On July 13, 2018, USCIS announced a new policy that "restores to the [USCIS] adjudicator full discretion to deny applications, petitions, and requests without first issuing an RFE or NOID, when appropriate." This guidance becomes effective September 11, 2018. Students are strongly urged to carefully review their applications and petitions to USCIS to ensure they have provided complete applications and included all necessary supporting documents.
---
Employment Information for International Students
Work Authorization and Employment Options – Nov. 16, 2021
Attorney Presentations

Attorney Duriya Dhinojwala – I-9, E-Verify, O Visa, TN Visa, and PERM Labor Green Card Process: Powerpoint slides
Attorney Farhad Sethna – The Basics of U.S. Immigration through Employment: Powerpoint slides
---
F-1 and J-1 Students: Maintaining Status
Students in F-1 or J-1 nonimmigrant status must follow federal regulations to maintain lawful status in the U.S. Click on your nonimmigrant status below to read more about maintaining status at The University of Akron.
If you have questions, email immigration@uakron.edu or call 330-972-6349 to set up an appointment to meet with an advisor at the International Center.
Visit the following government websites for more information:
Handbooks:
---
Groups for International Students
A number of groups on campus and in the community make it easier for you to adjust to living in the U.S. and getting to know both UA and Akron.
---
Immigration Forms
See our forms directory to report changes, apply for work authorization, information packets and applications related to F-1 and J-1 status etc.
---
Immunization update
As you may be aware the United States and other countries are experiencing a resurgence in vaccine-preventable measles infections.
Immunization information you need to know
---
Tax Information for 2022
We will help guide you through what you need to do comply with US tax law and understand the tax filing requirements of your visa. All non-immigrants in the US who were present at some time during 2021 are required to file tax related documents. The deadline for filing taxes in 2022 is Monday, April 18.
International Student Programs & Events
International Friends Program
The International Friends Program connects international undergraduate students with local families to develop meaningful intercultural exchange, friendship and support for international students while they are in the USA.
---
Conversation Partners Program
The Conversation Partners Program gives international students a chance to improve their conversational skills with native English speakers. It is an opportunity to speak in English, socialize, meet new people who want to help you feel welcome in the U.S. and learn more about American culture.
If you are interested in participating, learn more and sign up here!
---
International Education Week
International Education Week (IEW) is an opportunity for international students, faculty, and staff to highlight the rich cultural diversity we have here at UA. The annual event, held each October or November, features cultural performances, international food, guest speakers, and more.
If you are interested in participating, contact international@uakron.edu.
---
Events calendar
See the university's events calendar to know about upcoming shows, lectures, exhibits, gatherings, athletics and more.
International Students Resources