STRATEGIC AND ORGANIZATIONAL COMMUNICATION
UA's strategic and organizational communication program prepares you with the knowledge and skill needed to develop, evaluate and effectively communicate messages in contexts ranging from interpersonal relationships, business applications, public campaigns, advocacy and the law.
Our goal is for you to understand how the broad field of communication impacts organizational success and to learn how to apply technology effectively in communicating with organizations.
PROGRAM AND COURSE DETAILS
Our UA program is designed so that you will come to understand the theoretical constructs that define "communication" and then be able to apply them to your personal and professional lives.
We want you to be a skillful and ethical communicator, and a "citizen-critic" who understands how effective messages are constructed and is better qualified to identify rhetoric and less trustworthy forms of communication.
The courses will equip you with the skills and conceptual knowledge needed to create, evaluate and effectively communicate messages in contexts from interpersonal relationships to businesses and organizations, to public campaigns, advocacy and the law.
Required courses include:
Theories of Rhetoric
Organizational Communication
Communication Theory
Interpersonal Communication
Variety of electives include:
Persuasion
Intercultural Communication
Communication and Conflict
Rhetorical Criticism
Training Methods in Communication
Analyzing Organizational Communication
Small Group Communication
Advanced Presentational Speaking
Political Communication
Freedom of Speech
Social Media and Relationships
Our seasoned faculty members are successful professionals in the field. Their focus is to help you achieve your career goals. Many faculty members are esteemed researchers whose work builds theory and provides practical application, and their research is often published in highly-respected scholarly journals.
WHY CHOOSE THE UNIVERSITY OF AKRON?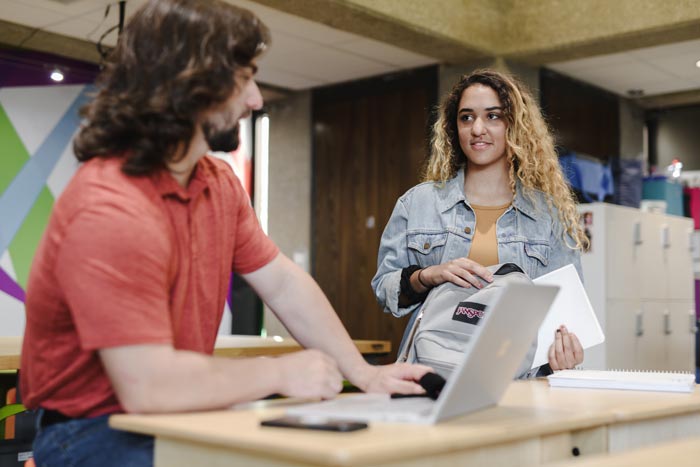 Experiential opportunities:
We want to give you every chance to practice what you are studying. We have many opportunities on campus for you to gain valuable, hands-on experience by working or joining our clubs and organizations.
Internship program:
In UA's internship program you can fulfill either 3 or 6 credit hours while gaining hands-on experience in a real workplace. You can choose to intern in nearly any department at any type of organization where communication and creativity are recognized.
The best way to understand the theories and concepts you are learning in the classroom is to apply them for real. Also, internships will help you network and build your skill set.
CAREER OPTIONS
Those majoring in strategic and organizational communication enter a wide variety of professional fields, including:
human resources
nonprofit management
corporate training and development
higher education
mediation, negotiations and law
political campaigns
public advocacy
sales
Salary expectations:
The range of average salaries is as wide as the range of professional options listed above.
Many students return to UA to complete their graduate degree, either immediately after earning their bachelor's or after a few years of professional experience.
---
CONTACT INFO
The School of Communication - Kolbe Hall 108 | Phone: 330-972-7600 | Fax: 330-972-8045 | Email
---
RELATED: