AKRON E-MAGAZINE
APRIL 2018
Class notes
In Memoriam
Daniel L. Abrashoff, BSBA '85, March 27, 2017
Daniel Adams, MAE '77, '85, Oct. 20, 2017
Dorothy J. Albert, BSBA '39, Oct. 2, 2017          
Ronald C. Allan, Nov. 26, 2017 
Shirley Angiulo, AAS '73, BST '77, MSE '86, Sept. 16, 2017
James T. Anich, BSBA '86, Sept. 04, 2017
Geraldine, Auld, BAF&N '57, Sept. 27, 2017
William G. Auld BSIM '60, Oct. 29, 2017
William H. Balch, BSBA '49, Oct. 30, 2017
Brian J. Balogh, AAS '98 Aug. 11, 2017
Mary C. Bellassai, BA '47, Nov. 03, 2017
Frances Y. Benford, BSN '79, Nov. 01, 2017
Barbara J. Bickler, BA '49, Nov. 12, 2017
Carol Brillhart, AAS '77, Oct. 28, 2017
James L. Burdon, JD '67, Nov. 13, 2017
Madolyn L. Campbell Oct. 03, 2017
Rene Casmire, AAS '78, BA '81, Sept. 13, 2017
Beatrice A. Chauncey, BAED '43, April 02, 2017
Helmar H. Dollwet, Oct. 25, 2017
Thomas E. Dunn, MS '99, Sept. 05, 2017
William Eaton Sept. 04, 2017
George F. Eckert, BS '44,Nov. 08, 2017
Betty L. Edwards, BSED '60, Sept. 08, 2017
Rex S. Ferguson, MA '94, Nov. 19, 2017
Seymour L. Fischer, June 30, 2017
Timothy S. Fitzgerald, BSE '80,Sept. 17, 2017
Kay W. Fluke, BAED '55, MAED '59, Dec. 03, 2017
Carl K. Fogle, MSED '69, Oct. 25, 2017
Theodore E. Fundoukos, BSEE '60, July 03, 2017
Nancy E. Gale, BSN '89, Oct. 02, 2017
Patricia J. Gaston, BSED '61, Oct. 06, 2017
Rocco L. Gemma, MS '95, Jan. 03, 2017
Pete George, BAE '60, Oct. 10, 2017
Charles P. Gerstenmaier, Feb. 02, 2017
Raymond W. Gesaman, BSE '92, MSE '03, June 19, 2017
Bruce E. Gill, BSBA '50, Oct. 13, 2017
Patricia H. Goodall, Oct. 14, 2017
Stephen J. Halaiko, Sept. 30, 2017
Barbara Ann Hale, BSED '52,July 13, 2017
Margaret J. Hardenbergh, MAE '72, Oct. 27, 2017
Michele R. Hardman, BS '83, Sept. 22, 2017
Shirley Harper, Nov. 09, 2017
Larry G. Hart, BSE '59, Sept. 08, 2017
Robert E. Hatton, BAED '71,Oct. 23, 2017
Jess Hershey, Nov. 28, 2017
Winifred J. Hickson, BSED '61, Aug. 31, 2017
Carol, L. Higy, MSE '81, EDD '98, Sept. 23, 2017
Brian D. Hill, BSBA '81 Sept. 26, 2017
Deborah S. Hill, Nov. 18, 2017
John W. Hofer, MS '92, Sept. 17, 2017
Raymond D. Holcomb, MAED '63, Nov. 23, 2017
Jack D. Huggins, Nov. 26, 2017
Isaac C. Hunt, Jr., Oct. 29, 2017
Anthony T. Jaswa, AAS '66, Oct. 27, 2017
Thomas J. Johnson, BSME '57,July 29, 2017
Marilyn S. Kent, BSED '52, Aug. 02, 2017
Megan E. Killough, BSBA '05, Nov. 08, 2017
June D. Kitarich March 01, 2017
Kathleen L. Klich, BSE '76, Oct. 25, 2017
Henry J. Knoch, BSIM '62, Oct. 08, 2017
Jack F. Komsa, Nov. 06, 2017
Louis M. Konstan, Nov. 29, 2017

Joseph R. Lemire BSBA '90, Sept. 26, 2017
Brian G. Lenz, BS '94, July 16, 2017
Karena C. Lin, Nov. 02, 2017
James B. Lindsey, Jr. JD '77, Nov. 08, 2017
Rose Ann Lowe, BAED '53, Nov. 09, 2017
Edward R. Lunda, Nov. 03, 2017
John W. Maurer, BSA '73, JD '78, Nov. 05, 2017
Stan J. Mazur, BAE '73, MAE '80, Nov. 15, 2017
Carol J. McFarland, BSE '83, Sept. 29, 2017
John E. Menesian, BA '52, BSBA '56, Sept. 11, 2017
Gladys M. Moore, June 27, 2017
Adam Moro, BSBA '50, Sept. 15, 2017
Joseph M. Morrison, MSW '05, Aug. 02, 2017
John D. Mowrer, BAE '71, BAED '72, Jan. 30, 2017
Louis L. Murie, Oct. 05, 2017
Ruth C. Murray, Feb. 07, 2017
Margaret L. Myers, BA '38, Oct. 23, 2017
Robert H. Myers, Oct. 29, 2017
Donald J. Nutter, Nov. 19, 2017
Eric J. Obloy, BS '15, Sept. 17, 2017
Timothy J. Ochsenhirt, BA '68, Nov. 09, 2017
B. Jerry Orsich, BSEE '52, Nov. 05, 2017
Richard G. Owens, AAS '74, AAS '85 Sept. 14, 2017
Evan W. Owens, BSBA '58, March 22, 2017
Bill R. Phillips, MAE '91, Jan. 16, 2017
Alfred E. Pocock, MA '70, Oct. 04, 2017
Dwite A. Polos, BSA '71, Sept. 30, 2017
Charles Popovich, BAED '63, MAED '69, Feb. 13, 2017
Michelle R. Post, BA '06, Oct. 09, 2017
Gene L. Preisse, BA '53, Nov. 13, 2017
Russell D. Rickeard, BS'65, MS '71, Aug. 03, 2017
Linda Jandecka Rohrbough, AAS '67, BSBA '71, Sept. 13, 2017
Raymond T. Romito, AAS '76, Sept. 10, 2017
Gary M. Schaeufele BA '77,Sept. 21, 2017
Franklin H. Schapiro, BA '66, MA '67, Sept. 16, 2017
Barbara P. Searle, BS '51, Oct. 03, 2017
Marilyn J. Sechrist, March 28, 2017
Martha F. Severyn, BA '45, Sept. 06, 2017
Betty Shatrick Sept. 21, 2017
Bruce R. Shaw, Nov.29, 2017
David W. Simmons, AAS '88, BA '91, Nov. 14, 2017
Harriet M. Smith, BSE '56,Sept. 14, 2017
Dolores A. Snyder, PHD '85, Nov. 27, 2017
Mary Jane Sokol, BSED '53, Sept. 15, 2017
John H. Stadler, BS '85, Oct. 18, 2017
C. Eugene Stalnaker, BSBA '60, Sept. 27, 2017
Ernest R. Stein, BA '48, Nov. 29, 2017
Linda S. Stiefel, JD '91, Aug. 17, 2017
Alphious C. Stouffer, Jr., AARTS '65, BSBA '68, Nov. 14, 2017
Alice L. Taylor, BA '47,Oct. 20, 2017
Stuart M. Terrass, BA '55, MA '65, Oct. 11, 2017
Patricia M. Thomas, BA '93, Oct. 10, 2017
James A. Thompson, Jr., BSE '76, MBA '82, Dec. 01, 2017
Joshua E. Trumbo, AA '13, Oct. 11, 2017
Lindsey J. Wagner, BA '04, Oct. 30, 2017
Patrick J. Walker, BSA '61, Sept. 05, 2017
Barbara Watson, JD '80, Nov. 29, 2017
Elaine L. Waugaman, BA '49, Sept. 19, 2017
George-Ann Wheeler, AAS '62, Sept. 07, 2017
James E. White, BSBA '51, Sept. 24, 2017
Joseph L. White, Nov 22, 2017
Kendra L. Wilson, BA '16, Nov. 27, 2017
Timothy G. Wojton, JD '76, Sept. 18, 2017
Dennis M. Wood, BS '89, Nov. 29, 2017
Mildred C. Workman, AAS '91, BA '92, Oct. 03, 2017
Lois Yingling, BSN '80, Oct. 30, 2017
Zips on Walkabout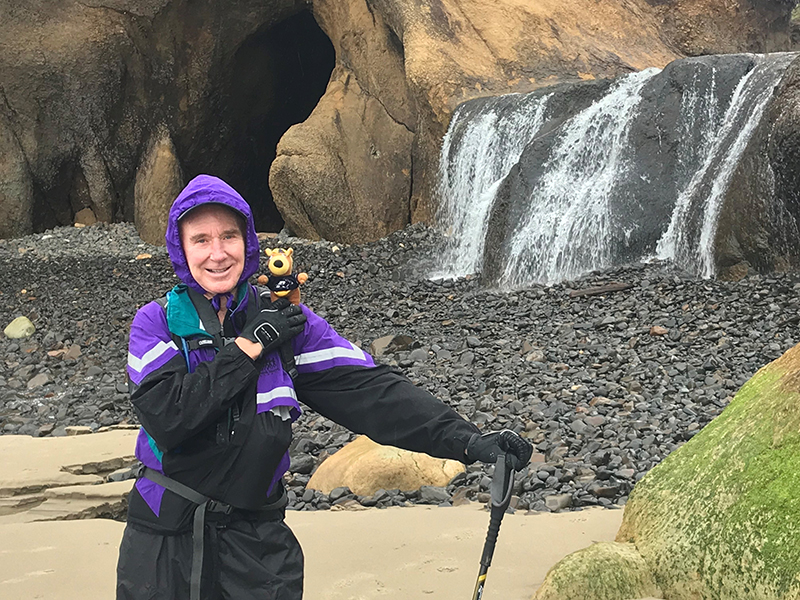 Zippy took in the waterfall at Hug Point, Ore., in early April 2018 with Bud McAnallen Jr., a member of the class of 1966, who resides in Lakewood Ranch, Fla. The stop at the Northern Oregon site was just one of many along the coast for Bud, a longtime outdoor enthusiast and avid hiker.
---
Also see
Akron e-Magazine home
Alumni news
The University of Akron
Alumni Association
---
Would you like to share some news?
Send us a note through Post your Pride and we'll include it for the next edition!
E-mail archives
---