AKRON E-MAGAZINE
March 2019
Akron baseball makes dramatic return, aided by Skeeles family gift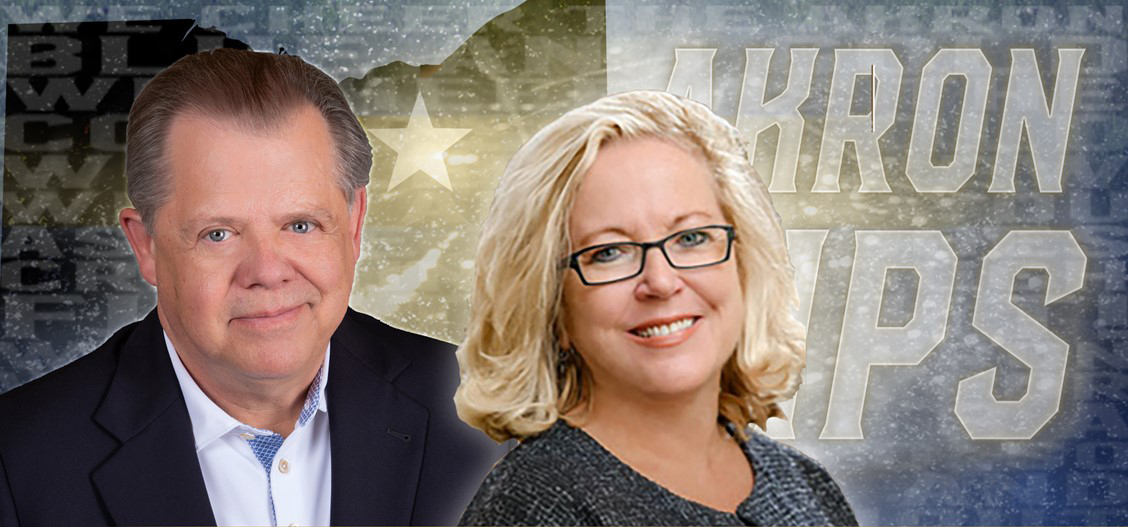 Excitement continues to build for the Spring 2020 return of Akron Zips Baseball with news of a nearly $1 million gift from alumnus
William (Bill) Skeeles
'77, and his wife,
Mary
. The couples' gift, part of a $2 million campaign, is funding the renovation of the baseball playing surface at Lee R. Jackson Field, which will be known as Skeeles Field.
More on GoZips.com
---
The Sunrise Breakfast: Honoring the 2019 Dr. Frank L. Simonetti Distinguished Business Alumni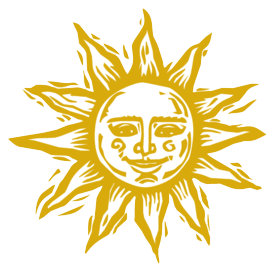 A dynamic group of UA graduates headline the College of Business Administration's 2019 Simonetti Awards. The annual breakfast event, taking place Friday, April 19, brings distinguished CBA alumni back to campus, sharing their expertise and experience with current students and colleagues.
This year's honorees are:
Joe DiRocco, '93, Regional President Northeast Ohio, Fifth Third Bank;
Matt Kaulig, '96, Chairman, Kaulig Companies;
Sandra Pianalto, '76, Retired, President & CEO, The Federal Reserve Bank of Cleveland;
Sandra L. Rapp, '90, Vice President and Chief Information Officer, The Timken Company;
Mike Saxon, '83, Retired COO and Executive VP, Vice Chairman, AmTrust Financial Services, Inc.; and
Brad S. Schroeder, '91, CFO, ACRT Services, Inc.


RSVP to attend
---
Presidential search advances with published prospectus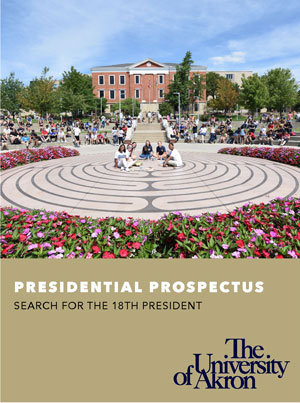 After gathering significant input from campus and community leaders as well as more than 100 comments and suggestions submitted by individuals, the Presidential Screening Committee has finalized the Presidential Prospectus that will serve as the foundational document in the search for our 18th president.
The document, posted to
the Presidential Search website
, outlines the challenges and opportunities in front of us and the characteristics and experience desired in our next leader.
---
New center at UA supports area urban educators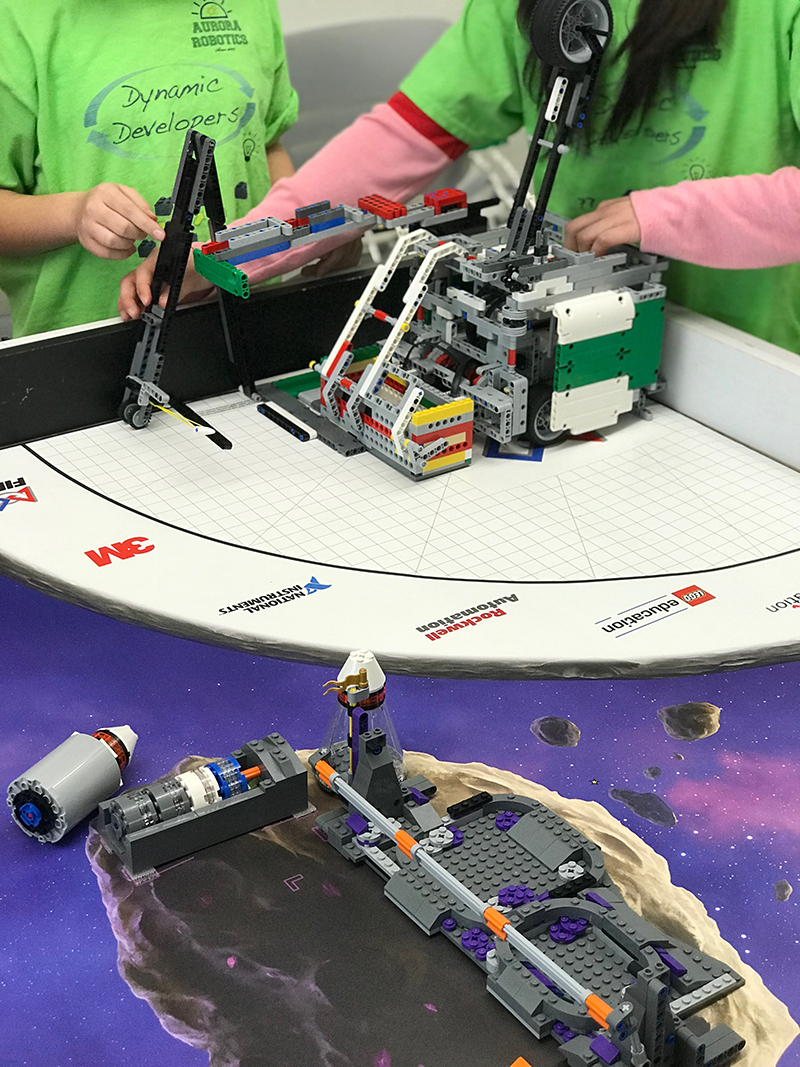 STEM education is becoming increasingly necessary for students as our world relies on the latest technology to function and the demand to fill STEM jobs increases. The workforce in the science, technology, engineering and mathematics fields is
projected to grow
13 percent (compared to 9 percent for non-STEM jobs) between 2017 and 2027.
To support that growth, our LeBron James Family Foundation College of Education is positioning itself as a key partner of organizations and schools in the region for STEM collaboration, and will provide educators with research-based professional development to facilitate equitable STEM learning for all students, expose and engage learners in research-supported STEM curricula, and conduct research and evaluation of local, state and federally funded STEM education programs.
More on the center
---
Social Security Retirement expert addresses UA estate planning event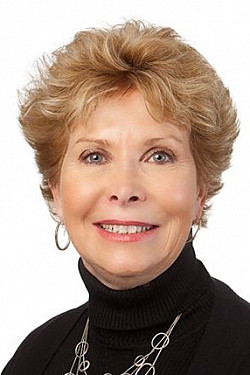 The Center for Gift and Estate Planning hosts an April 24 seminar on Social Security Retirement and Strategies and Philanthropy. "How to fund a lifelong retirement –and still give" will feature
Mary Beth Franklin
, a nationally known retirement expert and contributing editor of "Investment News." The 8 a.m. breakfast event will take place at Akron's Portage Country Club. For more information, contact the UA Department of Development, 330-972-7425.
Sign-up online to attend
---
Engineering elevates leadership posts highlighting recruitment and diversity, inclusion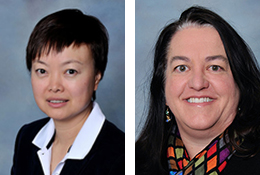 Two members of the College of Engineering leadership team have recently taken new posts aimed at increasing the college's outreach efforts.
Dr. Julie Zhao
(pictured at left) has been promoted to Assistant Dean for Recruitment, Retention and Marketing, while
Ms. Heidi Cressman
(right) has been named Director of Diversity and Inclusion, while continuing to lead the Women in Engineering (WIE) Program and Increasing Diversity in Engineering Academics (IDEAs) Program.
Zhao was formerly assistant dean focusing on international initiatives, partnerships with foreign universities, attracting students and researchers, and providing students with opportunities to study abroad and participate in distance learning.
Cressman, who was Director of Women in Engineering, adds Director of Diversity and Inclusion to her responsibilities. She will work to broaden the college's impact and increase opportunity among current and prospective students. Her promotion showcases the importance the college places on bolstering diversity and inclusion efforts within engineering.
---
Speech and debate team takes state championship four years in a row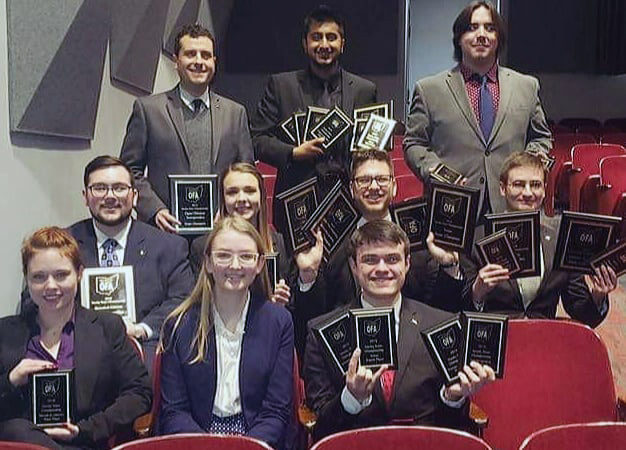 The University of Akron Speech and Debate Team was named the winner of the 2019 Ohio Forensics Association State Championship tournament. The intercollegiate competition, held Feb. 15-16 at UA, featured speech and debate programs from institutions throughout the state. This was UA's fourth consecutive win.
With just 10 students, UA fielded 37 individual events and dominated the tournament, winning with 337.33 points. Bowling Green State University (173 points) and Ohio University (118.67 points) rounded out the top three teams.
More on the team
---
Creativity of graphic design students in spotlight at Akron chapter of the American Advertising Federation awards ceremony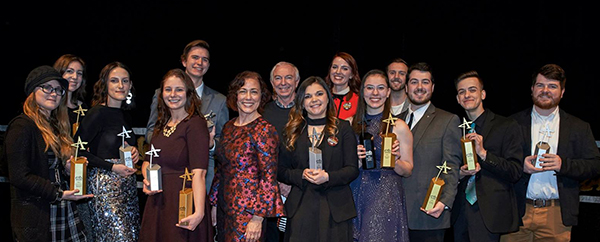 Among the winners of AAF-Akron American Advertising Awards (formerly called the ADDYs), were more than a dozen students and two faculty members and two 2018 graduates.
"It was a very big night for Myers," exclaimed
Melissa Olson
'10, president of AAF-Akron and manager of student affairs at our School of Art. "As both an employee and an alumna of Myers School of Art, this year's ceremony made me exceedingly proud. From presenting a Silver Medal Award to
Dennis Kleidon
, who helped launch the Graphic Design Program, to honoring student
Maria Groom
(pictured) with the Student Best of Show, I smiled so much that my cheeks hurt."
See the winners
---
Alumnus Michael Morell '80 led distinguished panel on 'National Security Challenges Facing the U.S'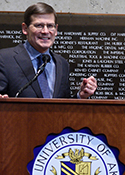 The 2019 Hood-Meyerson Lectureship in Free Enterprise addressed "National Security Challenges Facing the U.S" in a March 7 community forum led by UA alumnus
Michael Morell
'80, former acting director and deputy director of the Central Intelligence Agency. Morrell was joined by
James Clapper
, former CIA Director,
Michael Mullen
, former Chairman of the Joint Chiefs and
Lisa Monaco
, former assistant to the President for Homeland Security and Counterterrorism.
---
Upcoming Events
See everything for
Zips Athletics
and
E.J. Thomas Hall
.
What's
Alan Lavine
from the Class of 1973 doing these days? Read an update on him and many other alumni by viewing Class Notes.
See Class Notes
March 2019 Class Notes
---
Also see
Akron E-Magazine home
Class Notes & In Memoriam
The University of Akron
Alumni Association
NEW! Shop the Alumni Store
---
Would you like to share some news?
Send us a note through Post your Pride and we'll include it for the next edition!
E-mail archives
---