In memoriam: Judith Read, UA alumna and friend
05/18/2016

Dr. Judith Read, a community philanthropist and dear friend and alumna of the University, passed away May 12. She was 76.

Thousands of UA graduates benefited from the generosity of Dr. Read and her husband, Roger. Together, the couple supported a variety of University initiatives, primarily scholarships and experiential learning.

"For Judy, the focus was always on students – whether she and Roger provided assistance for degree completion or funded opportunities to prepare students for the next level of success," said Lawrence J. Burns, vice president of advancement. "Accordingly, her generous gifts to the University provided mentoring, internships and other career development opportunities. Her kindness, generosity and ability to look to the future have improved and will continue to improve the lives of so many UA graduates. She left an impressive legacy."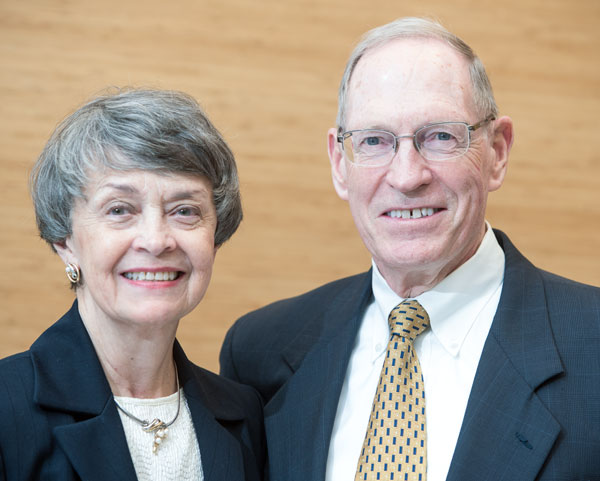 The Reads met at the University as students and married in 1963. Judith earned a bachelor's degree in English, with distinction, that same year.
Honored for dedication to her alma mater
Over the years, she served on The University of Akron Foundation and its College Centered Committee; the UA Women's Committee, where she served as past president; and the Buchtel College of Arts and Sciences Dean's Council. She was awarded an Honorary Doctor of Humane Letters from the University, and she is the recipient of the Buchtel Award in Humanities. She also received an Alumni Honor Award.
Roger earned a bachelor's degree in management and a master's degree in business administration from UA. He retired from the Harwick Chemical Corp., where he was president and CEO. Their son, Scott, is also a UA graduate.
The Reads established The Read Family Fund in 1986 with The Akron Community Foundation. Some of the causes the Reads supported with their fund are the Boys and Girls Club, the Akron Urban League, the Akron-Canton Regional Foodbank and Project Grad, a group acclaimed for its work with students at Buchtel High School, the couple's alma mater. In 2008, the couple received the H. Peter Burg Community Leadership Award.
A memorial service will be held at 11 a.m. Friday, May 20, at Bath Church, United Church of Christ, 3980 W. Bath Road in Akron. Friends may call 3 to 8 p.m. Thursday at the Billow Fairlawn Chapel, 85 N. Miller Road. Read the full obituary.
---
Also see
Akron e-Magazine home
Alumni news
The University of Akron
Alumni Association
---
Would you like to share some news?
Send us a note through Post your Pride and we'll include it for the next edition!
E-mail archives
---