President & Founder Norman P. Auburn, 1951-1971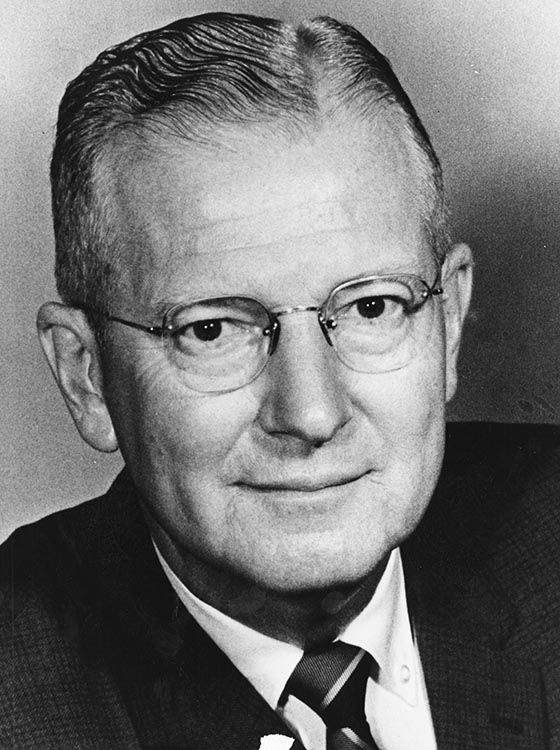 Recognizing that voters did not understand much of what a university did, President Norman P. Auburn advocated campus growth and beautification as a means of gaining increased public support – and he succeeded greatly. Auburn oversaw tremendous growth in enrollment and the campus itself, fueled by municipal tax levies and private fund-raising. During his tenure, Memorial Hall and Kolbe Hall were among the many buildings constructed, the land that is now Lee R. Jackson Field was purchased, and plans were organized for financing the building of E.J. Thomas Performing Arts Hall. Because he engineered such significant growth and the transition of the institution to a state university, President Auburn is regarded, along with Buchtel and Kolbe, as a founder of the University.
1952
A University District is established to control construction immediately adjacent to the campus.
1953
The College of Business Administration is formed.

On May 1st, the kangaroo is declared the official mascot of the University because, "It is fast, agile and powerful with undying determination - all of the necessary qualifications of an athlete."
1956
The Institute for Rubber Research is created.
1958
The vote to amend the city charter to allow the University to receive operating funds from taxpayers initially fails by 64 out of 95,626 votes. A recount shows the amendment passing by 262 votes.
1959
The University's first doctoral degree is awarded, in polymer science. In so doing, Akron becomes the fifth Ohio university to offer doctoral work, following Ohio State, Western Reserve, Case and Cincinnati.

The School of Law is established.
1960
For the first time since the days of Buchtel College, students reside on campus, due to the opening of a new 98-bed men's residence hall, which would later be named Ritchie Hall.
1963
The University of Akron receives its first state tax monies.

Work begins on a formal plan that will guide future development of the physical campus.
1964
The Community and Technical College is formed.

In a five-day span in October, U.S. President Lyndon Baines Johnson and his opponent for the presidency, Arizona Sen. Barry Goldwater, each visit campus.

The Institute of Rubber Research is renamed as the Institute of Polymer Science.
1967
On July 1, The University of Akron officially becomes one of Ohio's state universities.

The College of Fine and Applied Arts and the College of Nursing are formed.

The Challenge '70 Capital Campaign is launched. The largest fund-raising campaign in the University's history, its goal is to raise $10 million by 1970, with most of the funds targeted toward building a performing arts hall.
1971
Buchtel Hall, the only remaining structure from Buchtel College, is gutted by fire. It will be restored and will reopen in 1973.