Founder John R. Buchtel, Board President 1870-1892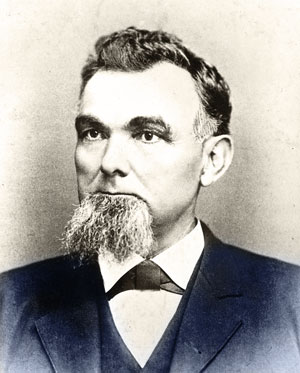 Akron industrialist John R. Buchtel was instrumental in persuading the Ohio Universalist Convention to found its college in Akron. He and his wife, Elizabeth, donated $31,000 of the $60,000 required to build the College and remained closely involved in its daily affairs. They often provided food, loans and other support to students, and Mr. Buchtel guided the business operations of the College. Despite many other interests, the Buchtels devoted most of their energies and fortune to the College, donating a total of nearly one-half million dollars.
1870
The institution now known as The University of Akron is founded as Buchtel College by the Ohio Universalist Convention. Its site, Akron, is a small but steadily growing city of 10,000 along the Ohio & Erie Canal.
1871
The cornerstone for Buchtel College is laid on July 4. The speaker for the occasion is Horace Greeley, editor of the New York Tribune, a prominent Universalist and a soon-to-be candidate for the presidency of the U.S.