President George F. Zook, 1925-1933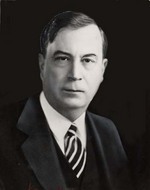 George F. Zook devoted most of his energy to a controversial plan to relocate the campus on 60 acres of open land just west of Hawkins Avenue on Akron's west side. The stock market crash of 1929 helped influence voters to reject a bond issue that would have financed the move. Still, Zook guided the University through the beginning of the Great Depression, managing to maintain both academic quality and financial solvency.
1926
Trustees change the institution's name from the Municipal University of Akron to The University of Akron.
1927
"Zippers" is the winning entry in a contest to choose a nickname for the University's athletic teams. The name, suggested by Margaret Hamlin, is that of a popular overshoe manufactured by The B.F. Goodrich Company. The company grants permission to use the copyrighted name, which eventually will be shortened to "Zips."
1932
The University's Guggenheim Airship Institute is founded to conduct research in lighter-than-air craft as a joint effort with the California Institute of Technology. The Institute boasts about having the world's largest vertical wind tunnel.