Community Counselor Connect
We recognize counselor's efforts to assist their students when they are planning to transfer to The University of Akron. As a result, we have developed this website to provide helpful resources and who to connect with here at UA.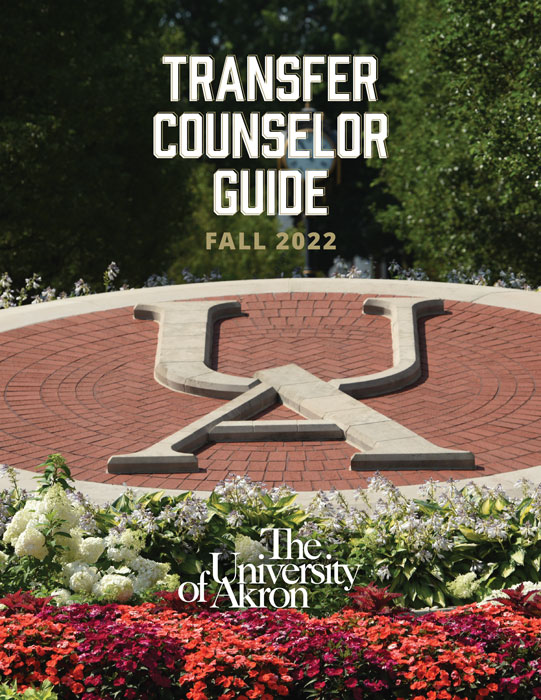 UPCOMING PRESENTATIONS
Tuesday, October 4 at 9 a.m.
Featuring the College of Health & Human Service with focus on Allied Health and Social Work
Register Now
Tuesday, November 8 at 9 a.m.
Featuring the College of Business with focus on Sports Management and Sports Analytics
Register Now
PAST PRESENTATIONS
UA TRANSFER COUNSELORS
To speak with transfer counselors at UA please contact the person listed below for your specific community college
If you don't see your school listed, email transfer@uakron.edu to find your transfer admissions representative.
Kimberly Snowden
liddell@uakron.edu
330-972-6483
Butler County Community College
Community College of Allegheny County
Community College of Beaver County
Cuyahoga Community College
Northwest State
Owens Community College
Rhodes State College
Terra State
Westmoreland County Community College
Olivia Rado
ohr2@uakron.edu
330-972-6624
Cincinnati State Community College
Clark State
Edison State
Lakeland Community College
Lorain County Community College
Sinclair Community College
Southern State
Helen Dauka
hnd6@uakron.edu
330-972-7533
Belmont College
Eastern Gateway Community College
Hocking College
Stark State College
University of Rio Grande
Washington State Community College
Zane State
MORE TRANSFER CENTER INFO