What's Happening at the CBA
Congrats to UA team in the Ohio HR Games

This past Saturday, the UA team took 3rd place in the Ohio HR Games. Doing well in these programs is a testament to the strength of our programs.
UA professor participates in Fulbright Program anniversary celebration

Dr. Sucharita Ghosh, professor of economics in the College of Business Administration, was invited to the 70th Anniversary of the Fulbright Program in Italy on Dec. 11 organized by the Embassy of Italy in Washington, D.C., and the United States Department of State.
"Even Though it Was a Big School, It Was a Big School Where I Could Matter"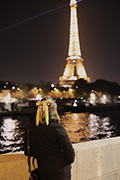 From a couple of weeks stay to a full semester, The University of Akron offers a wide variety of options to study abroad. "I have been wanting to study abroad since I arrived here," Junior corporate finance, risk management and insurance, and international business triple major, Allison Muntin, shared. This fall, she finally got that chance.
More News