Undergraduate programs in engineering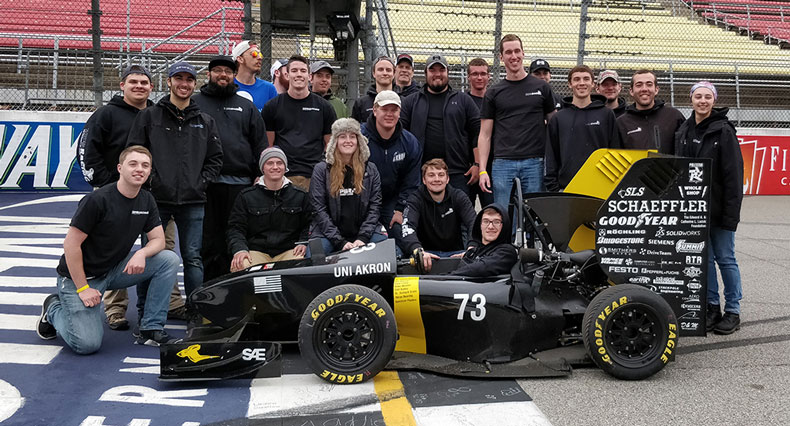 If you're looking for a challenge, a place to be involved, and serious academic support, The University of Akron's College of Engineering is the place for you.


We offer seven undergraduate programs as well as six master's degrees in engineering. The academic requirements for these programs are rigorous, but we'll provide you with the direction and support you need to master them.
The college has awarded more than 10,000 undergraduate and graduate degrees since its founding in 1914. Our alumni include over 400 presidents, CEOs and other senior executives of companies and corporations. Our faculty consists of doctorate-degreed researchers who are active in their professional organizations and partner with state, federal and industrial sponsors. Above all, they are teachers, committed to the success of their students. You'll enjoy the resources and advantages of a large institution, and the personal feel of a small school.
---
Cooperative Education
Through our co-op program, you'll get paid while gaining professional experience before you graduate. We have connections to more than 1,500 companies and government agencies to place you in a work situation in line with your career goals.
Admissions
College isn't like high school. Your high school classes will provide a good foundation, but be ready to challenge yourself. Take advantage of opportunities to get involved and to expand your problem-solving skills.
Academic Programs
In the College of Engineering, you'll find challenging academic programs and the support to succeed. As an undergraduate, you can conduct research with professors, join student engineering groups and participate in the rich, active campus life at UA.
For Parents
In the College of Engineering, your student won't be a name and number. Our students are important members of our community, and we'll do our best to help them succeed. As a parent, you are an important partner in helping your student attain college admission and academic achievement.